The hashtags you select will play a critical role in how targeted your audience is and how rapidly your Twitter account grows.
In this guide we'll discuss how to grow your Twitter following and how to do it the right way to maximize your marketing results.
What is SocialGrowth?
SocialGrowth is a social listening tool. We listen to the conversations that are taking place live on Twitter.
Why do we want to listen to live tweets?
Because…
Twitter has over billion people signed for the platform, but only 3 million are using it actively each month.
If you want your Twitter profile to have a marketing impact on your business, you should make sure that the people who are following you are active and will engage with the content you are going to share with them.
What SocialGrowth does is to give you all those live conversations that are currently taking place on Twitter for the hashtags you have given us and thus guarantee that the connections you are making are only with active and targeted users.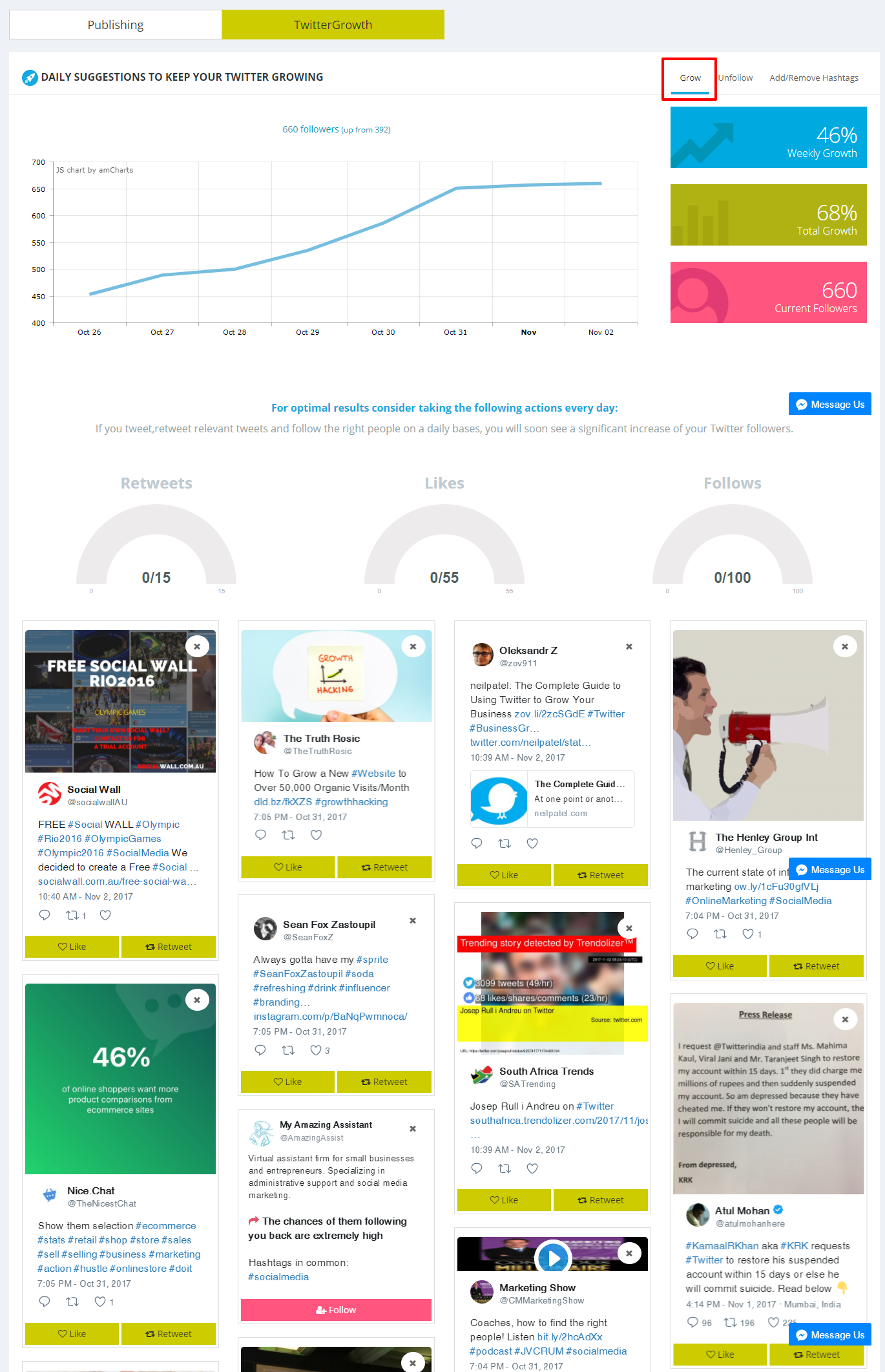 Your Twitter following growth relies heavily on the #hashtags you choose. Actually, this is the first step to set your TwitterGrowth account.
Once you've added the hashtags to SocialGrowth (for better results we recommend 10-15 hashtags), you can start completing your daily goals. Go through the suggested tweets and consider tweeting, retweeting and following the once you find appropriate. The ones you do not like, you can remove with the small "x"  and new suggestions will pop up on their place.
If you find those tasks daunting, you can always switch to TwitterGrowth Plus to allow our team to complete your daily goals for you.
How to pick the right #hashtags
When you start with SocialGrowth, you will be asked to put in about 10-15 hashtags that are relevant to your business niche.
But how you can find the right hashtags for your business? 
If you are a fitness instructor, you want to build a follower base of people who are interested in content related to fitness, right?
You can start with taking a look at the live conversations that are taking place on Twitter – Twitter Advanced Search: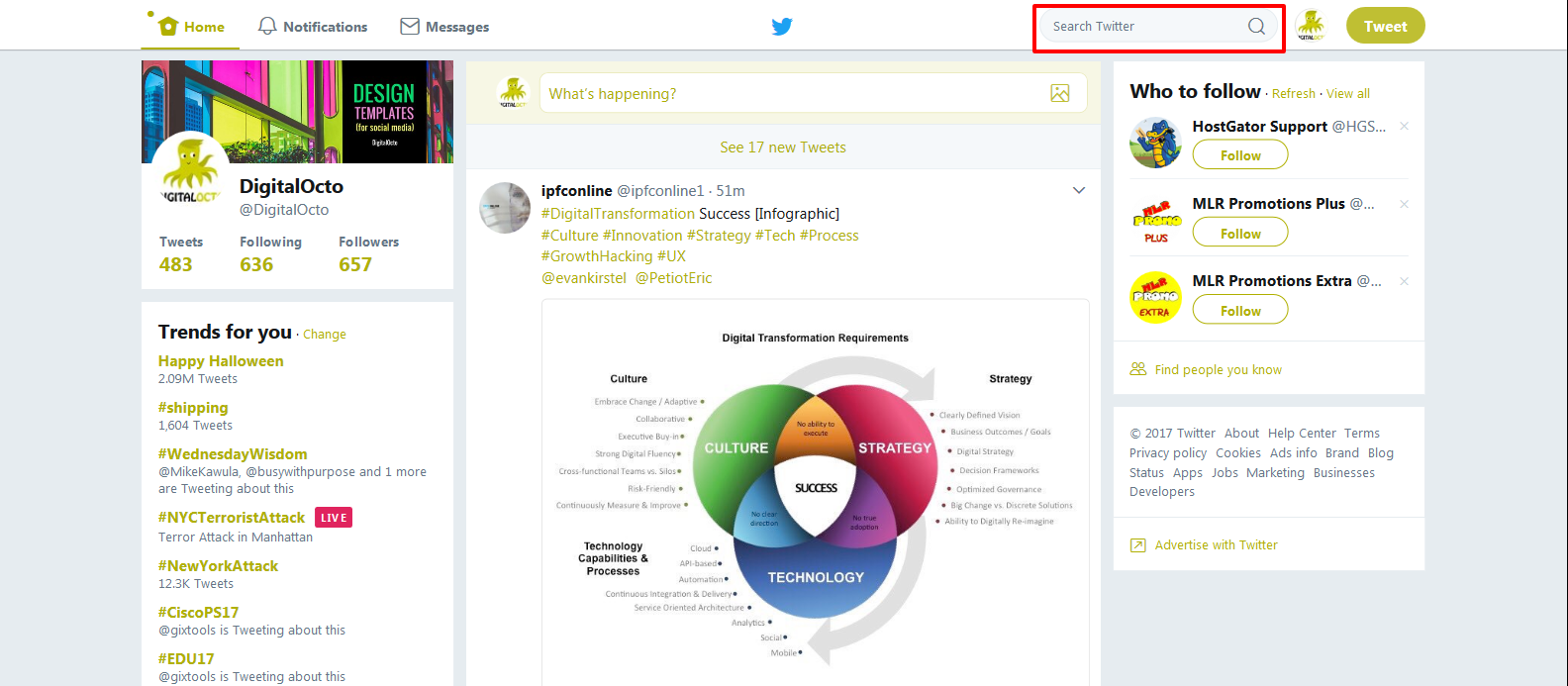 You can type in anything that you want. Let's take the hashtag #fitness for example
You will be sent to the Top tab that is showing all discussions going on around social media, but what interests us more is to see who is talking about fitness LIVE (see the Latest tab):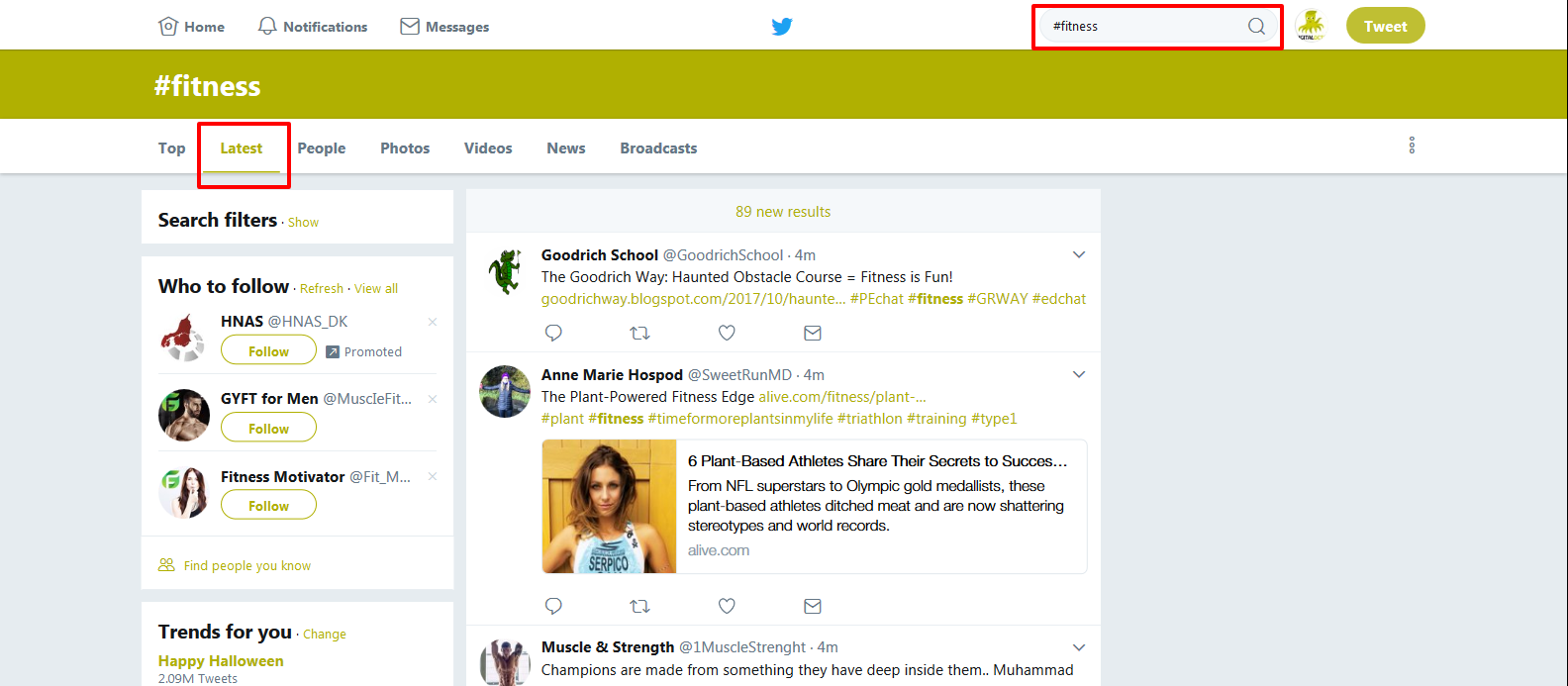 If you go down through the suggested tweets, you will see people who are having discussions using this hashtag. You can easily see what people are talking about, what type of content they are posting and what hashtags they are using to reach their targeted audience.
Write down all that information because it will be useful for you not only to pick the hashtags, you will use to grow your twitter, but you will get a clearer idea of what you should tweet about. (As you know, you need to keep a steady flow of tweets every day)
Do you know who the influencers in your business niche are?
This tool knows the answer. Go to http://www.rightrelevance.com/ and type in fitness. The tool suggests some relevant keywords and searches.  We can choose fitness instructor for example.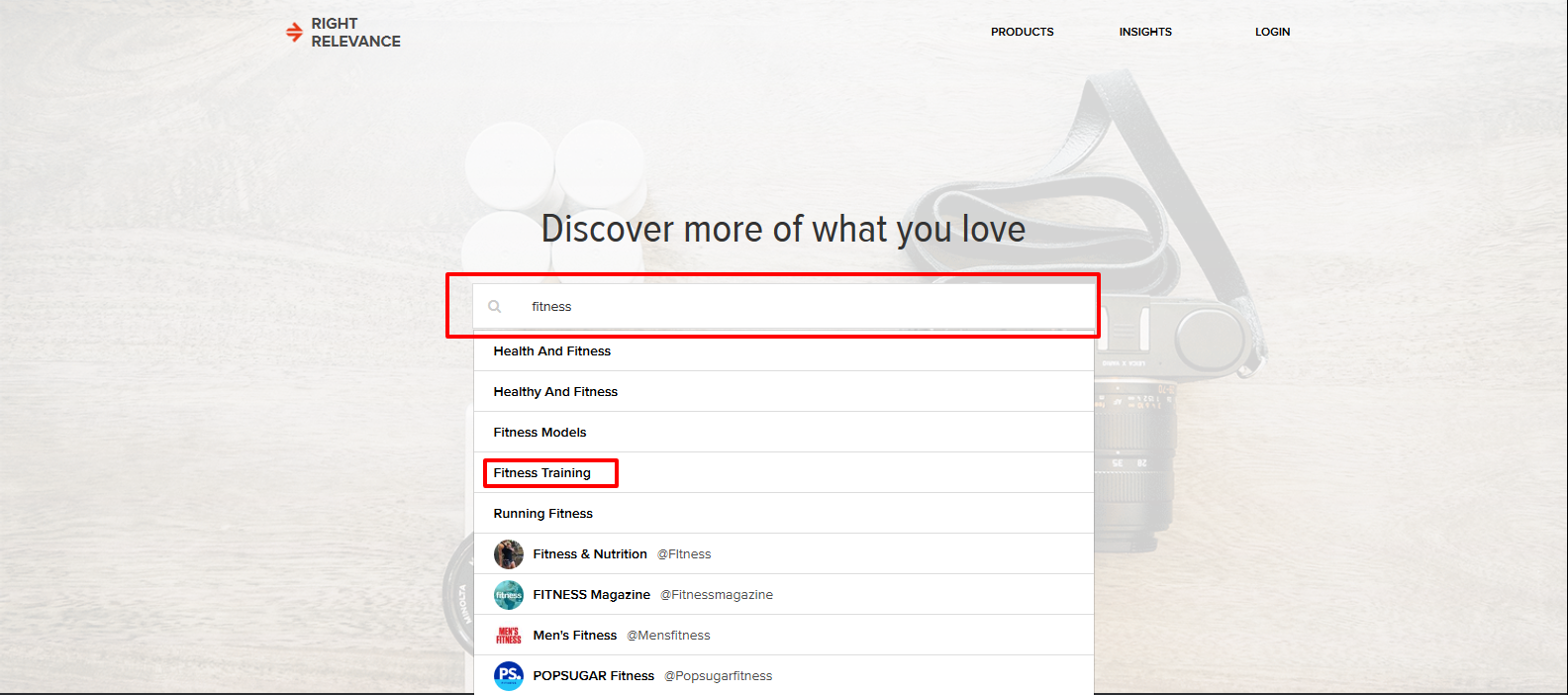 Then click on the Influencers tab
And then click on Person: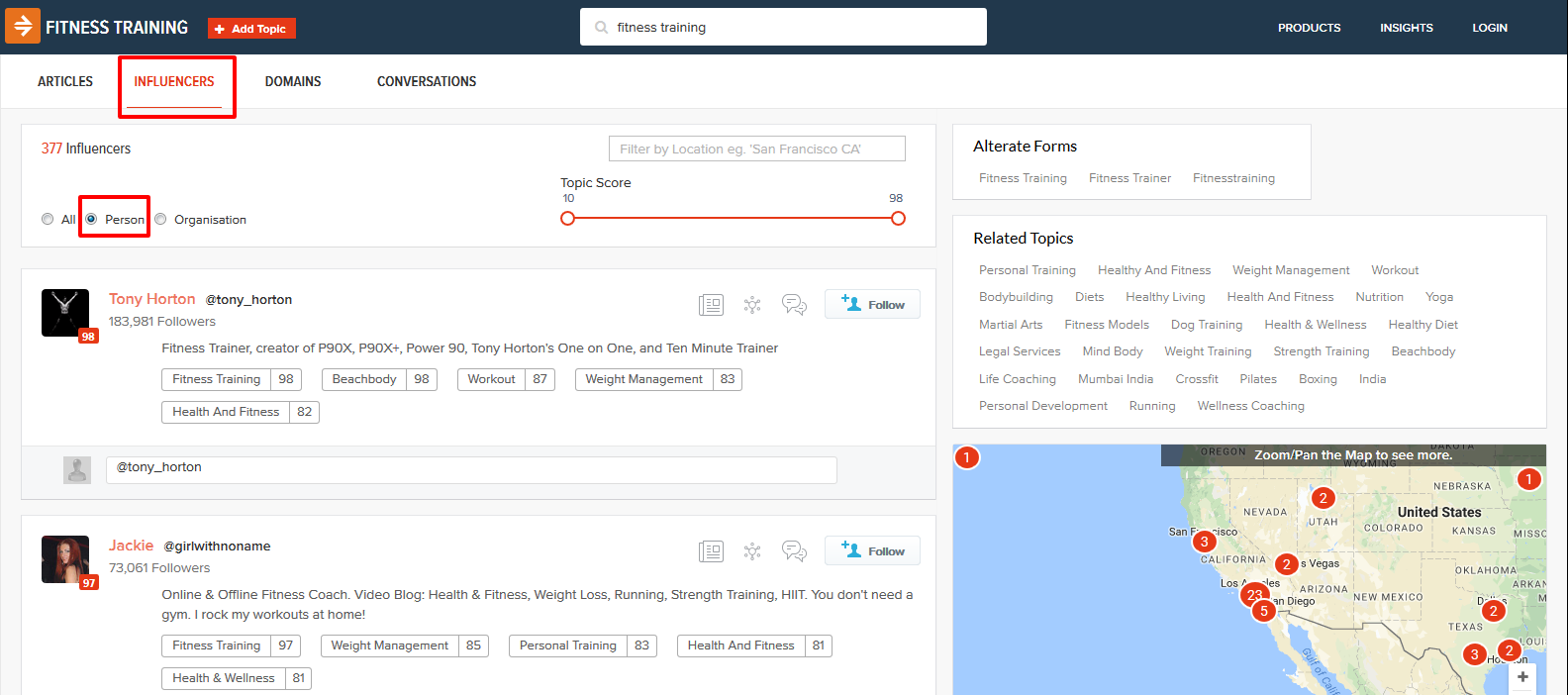 Here it is going to show you who the influencers in your field are. You can see what they are tweeting and what hashtags they are using. You can also see other related topics: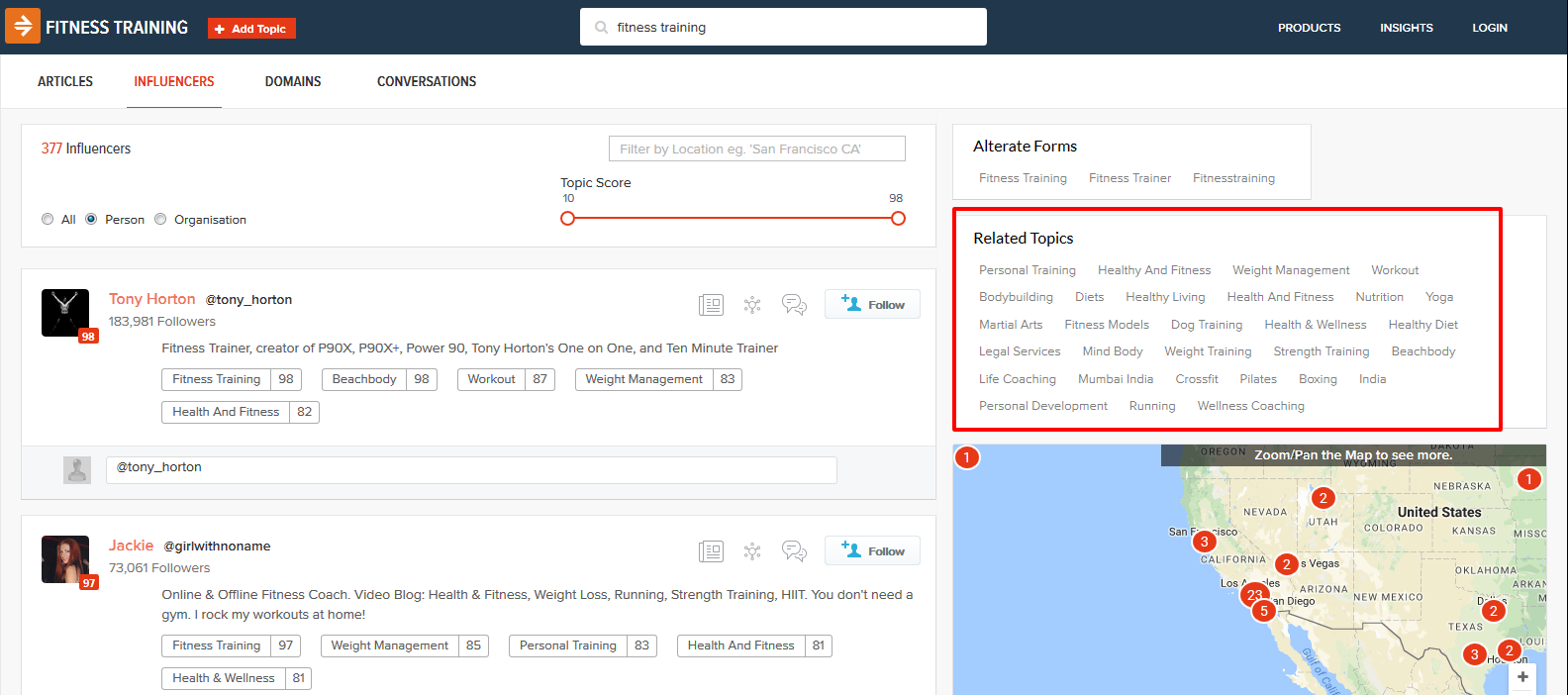 Related topics actually are other words that you might want to use and explore. Look down them.
You see the words Bodybuilding, Diets, Weight Management, etc. Some fit well your business niche, other do not. Weight Management is a very good example. Most people who are looking for fitness trainer, they are also interested in losing weight, right? They most probably wouldn't type on Twitter: I'm worried about my weight management. Can you help me? They would rather look for weight lost.
But now let's get back to the suggested influencers in the fitness field. The first name is Tony Horton. Click on his name and you will see more about him, the topics he is talking about and if you click on his Twitter handle you will be directed to his Twitter profile.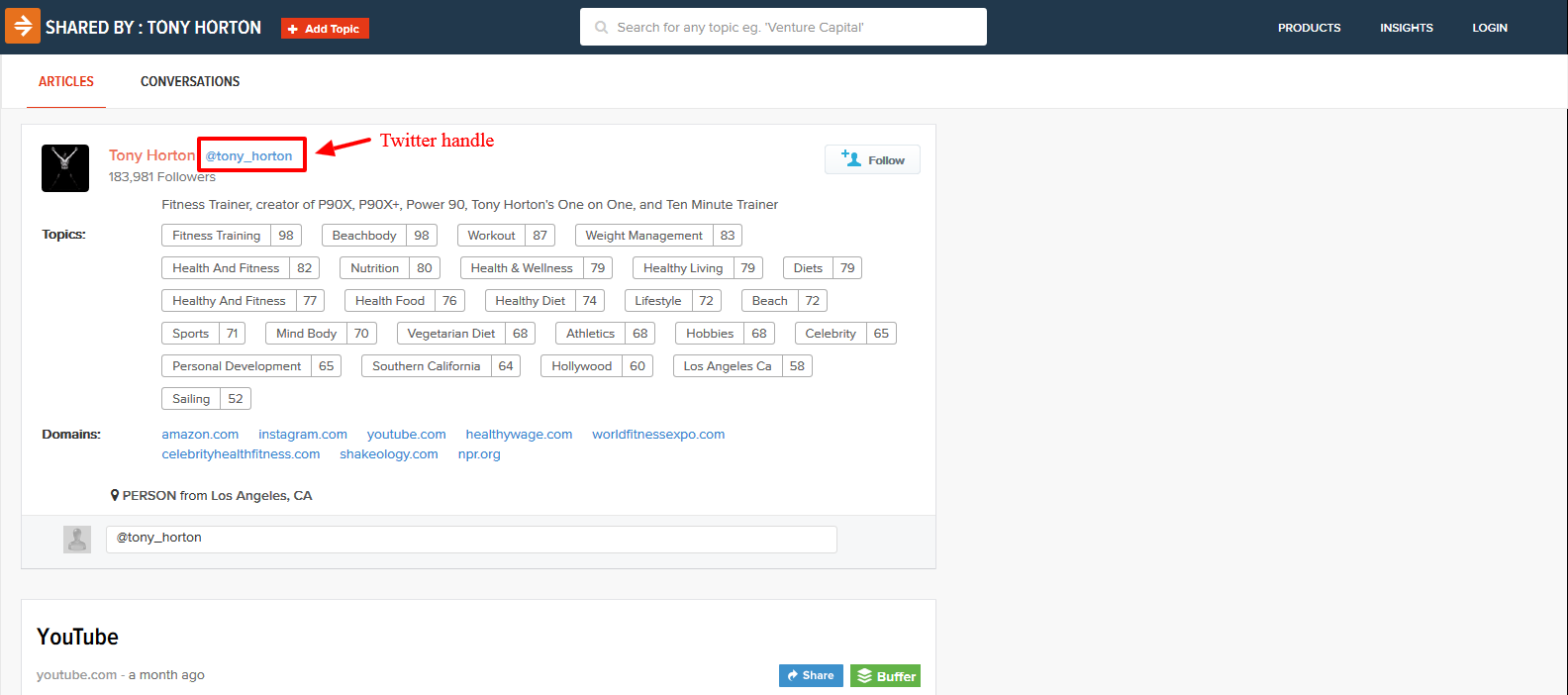 It's going to bring you to Tony Horton profile. So when you look down, you can start seeing all of the awesome content that Tony is sharing, what hashtags he is using and then write your findings and thoughts on your worksheet.
What you can do also is to take a look at the followers of Tony Horton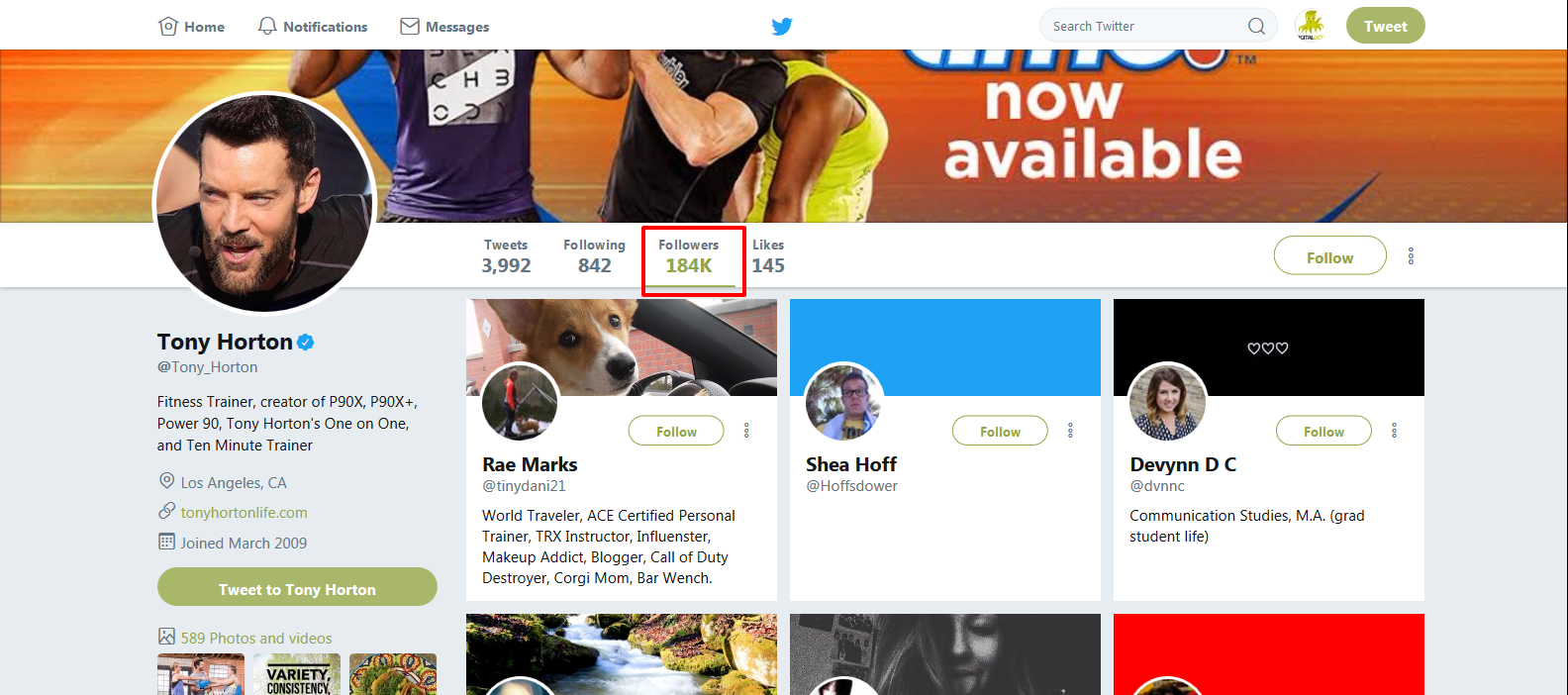 What you can do is follower his followers. But some of these followers might not be active on Twitter. They do not really take time to put on their headshot and fill out their bio. They might have just a few followers and a couple of tweets. These are all attributes of an active account.
And you already know that if your followers are not active, they are not going to see your tweets, right? This means that following the followers of other people isn't a very good model all by itself.
That's what SocialGrowth is doing. It is giving you suggestions for people who are actively tweeting.
When deciding what suggestions we could give you, we take into account things like how many times this person is tweeting, how many people they following and how many followers they have.
Another way is take put down #Tony_Horton in the Twitter Search and then again hit Latest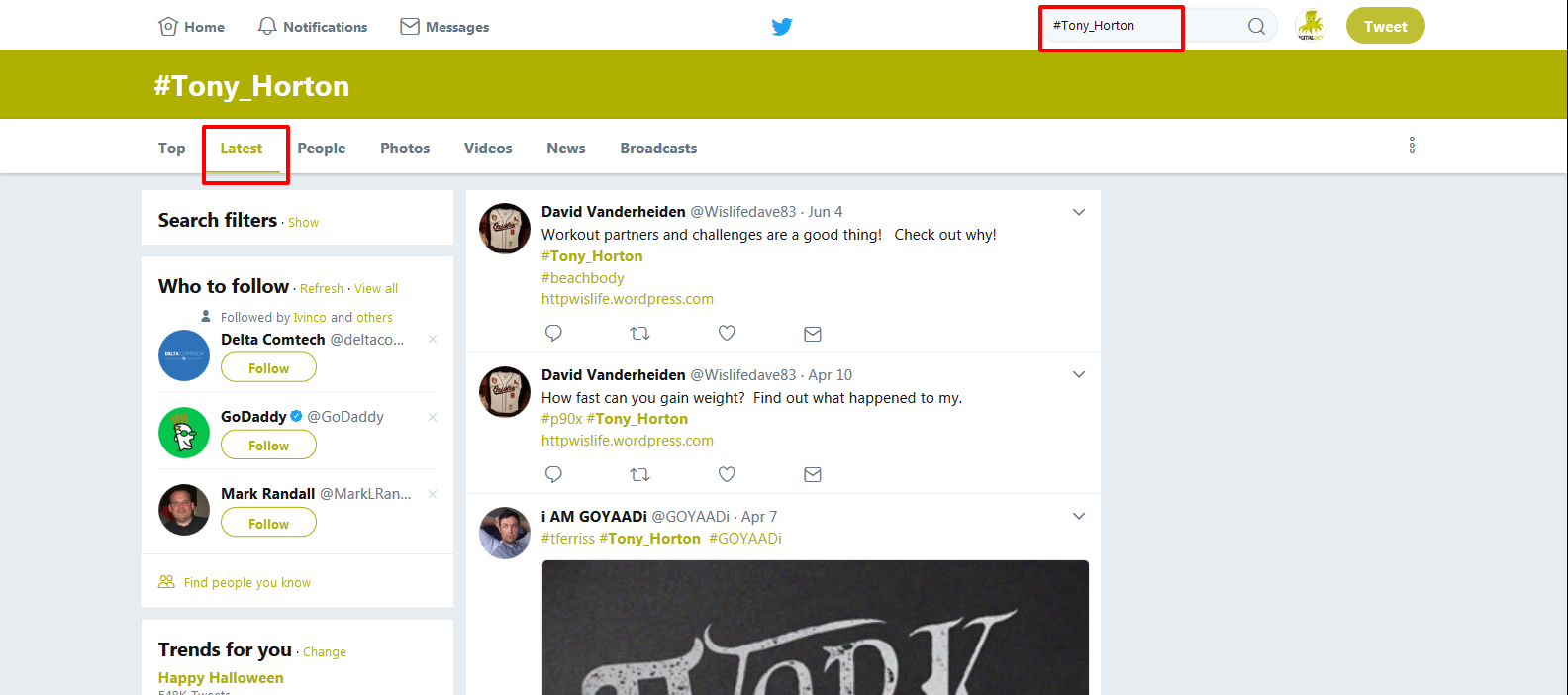 You can see how many people are talking about him. This will help you decide if you would like to put Tony Horton as a hashtag (#Tony_Horton) on SocialGrowth.
As you can see from all we said, you can build your followers your own way looking at Twitter and finding the right people to follow
OR
You can give SocialGrowth your hashtags and we will do all that for you. The best part of it is that we are still giving you the opportunity to approve or disapprove every person or tweet we are suggesting. You have the power and control over your Twitter account.
But if your time is limited, you can request SocialGrowth Plus – this is your personal Twitter marketing assistant that will do all the tedious following and unfollowing for you.
Twitter Following Limits
Twitter does have a limit of how many people you can follow a day and that's based on the size of your account.
Do not push those limits because Twitter can suspend or ban your account.
We at DigitalOcto know those limits and our team watches them very closely.
NB: While using SocialGrowth tool, do not use any automated Twitter tools or follow more users than SocialGrowth has suggested for the day. There is a high chance of getting suspended by Twitter.
Unfollow
The follower to following ratio is an important indicator of your success on Twitter. A better ratio indicates more interest in your brand than a worse ratio.
A positive ratio is when you have more followers than you have people you follow. A negative ratio is the reverse, when you follow more people than follow you.
If you follow and unfollow people too rapidly, Twitter is very likely to sanction your account. That's why you need to strictly follow the daily suggestions SocialGrowth gives you for your account. They could change on a daily basis.
To keep a good follower to following ratio, you need to use our UNFOLLOW feature every day. Though Twitter doesn't clearly state that there are limits as to how many people you can unfollow a day, we think you shouldn't unfollow more than 100 people per day.
So once you've done with the suggestions for follows and retweets for the day, you will want to go to the UNFOLLOW tab and see if there are people who are not following you back and unfollow them.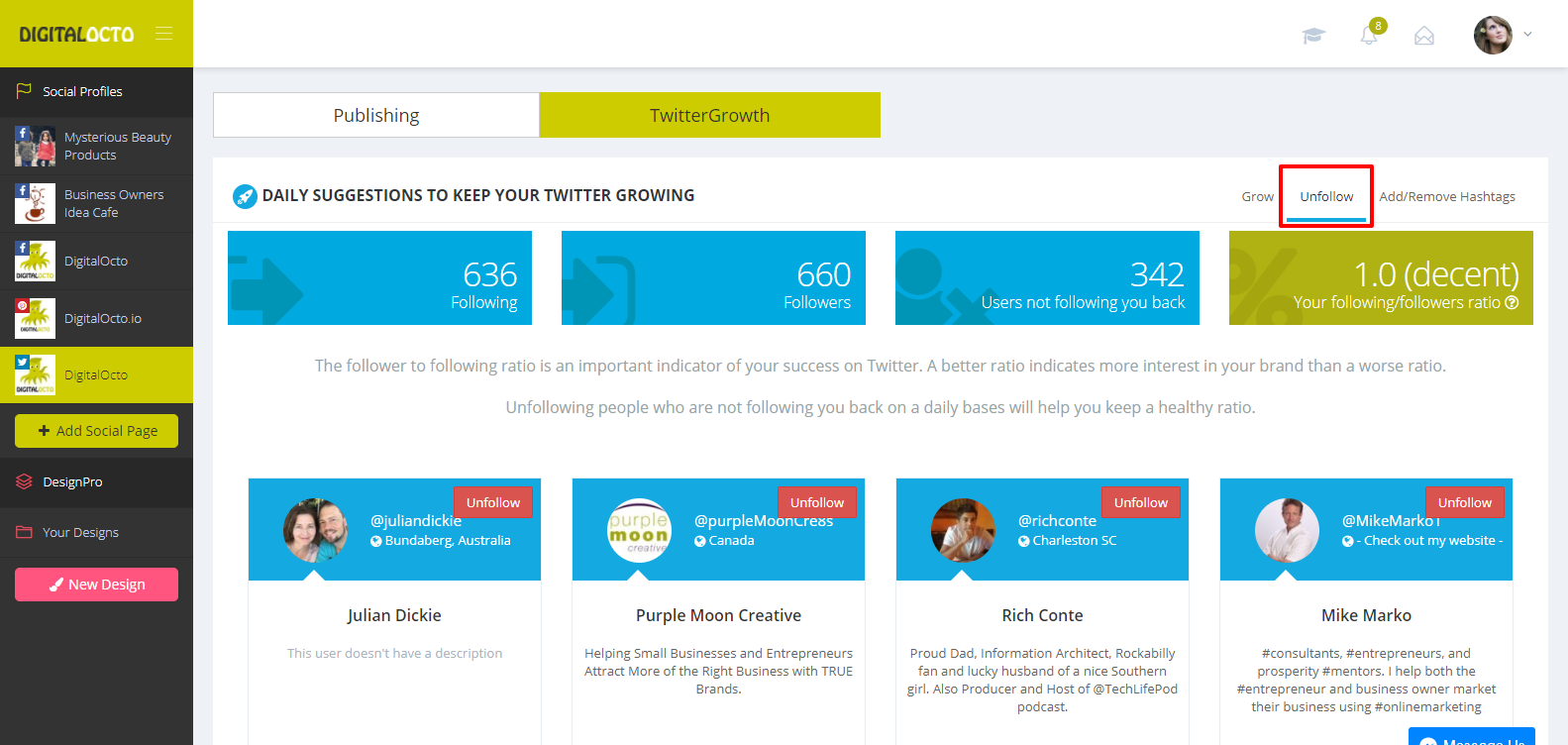 Conclusion:
We give you the tools and knowledge you need to do the initial research. It will help you not only with picking the right hashtags, but also with your content strategy on Twitter (more for it in some of the next guides).
While doing the research, you can make an Excel file and take notes:
Who are the influencers in your niche and what hashtags they are using when tweeting.
Who are the bloggers in your niche? What type of tweets they are posting and how frequently?
If there are conferences you intend to visit or your industry peers attend, it would be wise to add on SocialGrowth the conferences' hashtags as well.
Research your competitors. What hashtags they are using? What is their audience interested in?
You can also find some of your customers on Twitter. What are they doing? What they like? Anything you can find out.
Come out a list of 20 to 40 hashtags for each of the questions above. Then you can add 10 to 15 of them to SocialGrowth .  Over time, you can experiment a bit by shifting some of the hashtags. This way we can pull different suggestions over time and your account doesn't stick at some point.
But again, if you would like to receive a good suggestions for people who are active on Twitter and are relevant to your business niche, as well as good tweets to re-tweeting (retweeting is powerful Twitter option) on a daily bases, you should check on Twitter Search every hashtag you put on SocialGrowth to make sure that it's just for your business and there are enough live conversations going around.