Today we are discussing how to make best use of the biggest piece of visual real estate on your Twitter profile – your cover photo! It may sound simple, but a cover photo can make a big difference for your business. It can help you and your business better connect with fans and drive traffic to your website.
It's a simple thing, but many people waste this opportunity by filling that area with whatever fits. Instead, you should have a specific purpose and reason behind your cover photo.
Why is this important?
As a business, your target audience will form an opinion on your brand in the first few seconds of landing on your social media page. So be wise and grab their attention with an awesome Twitter cover.
The way you communicate your message (through text and image) could be the difference between landing a conversion (a follow or click through) and losing a prospect.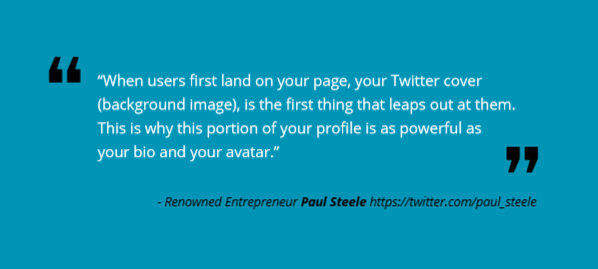 And you don't want to miss the biggest opportunity for you to get people to click on your link, because your main objective is driving sales on Twitter.
If you choose the right keywords, SocialGrowth will present you with the right people that will be interested in your business. And you need a strategy to get them through your marketing funnel. That strategy starts with a meaningful Twitter cover.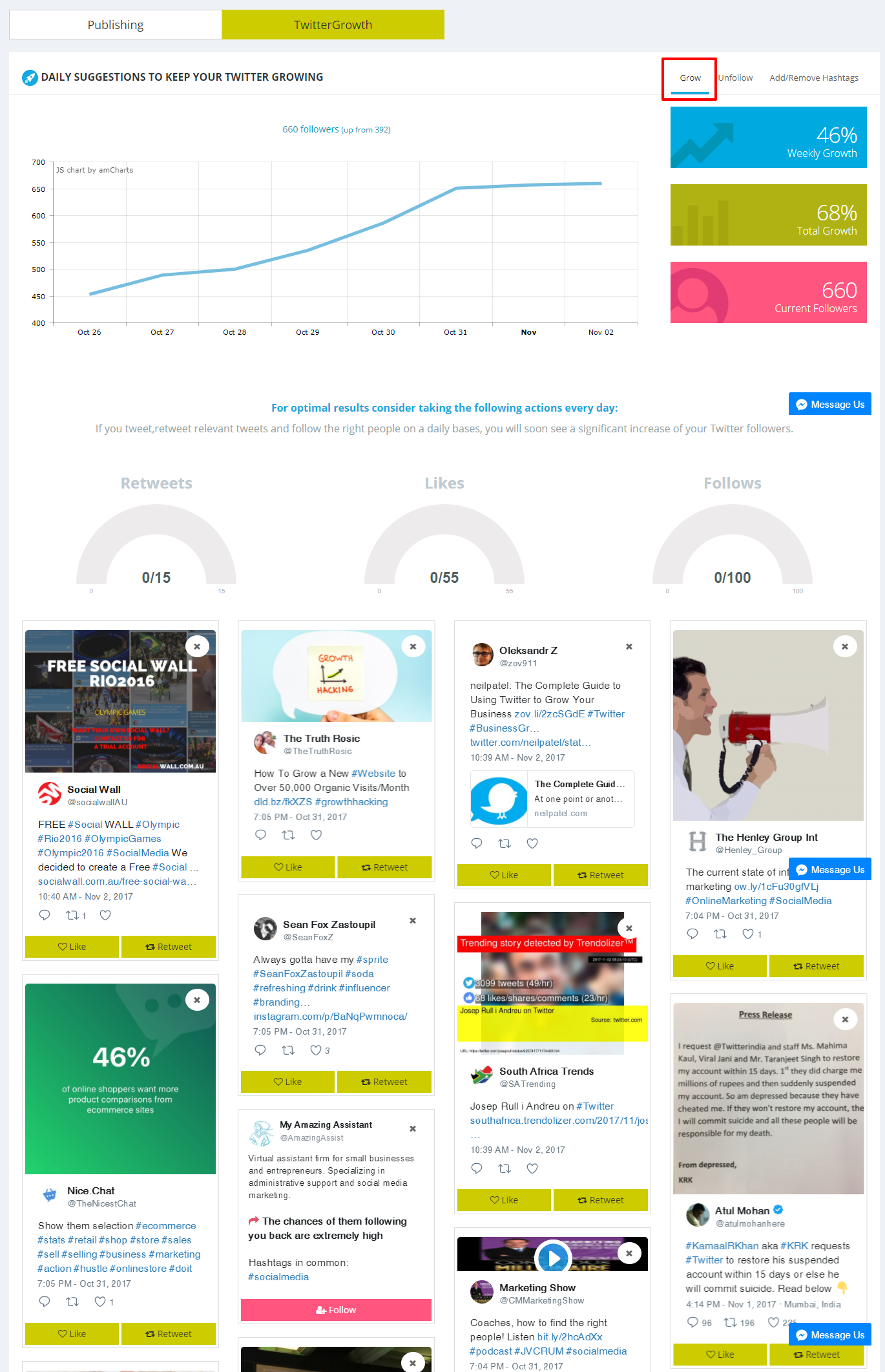 Do you have an awesome Twitter cover? Today we look at how you can create one.
Use the Right Dimensions
The recommended dimension for your Twitter cover photo is 1500x500px. Following this guideline is important because the wrong dimensions could result in blurry images especially when viewed on wider screens. With the right dimension, your Twitter cover will be crisp and clear both on mobile and on a desktop.
Keep in mind that the approved file formats (for now), are GIF, PNG and JPG. There is no support for animated cover photos yet.
RECOMMENDED TOOL: If you don't have any design skills and don't know how to stick to recommended dimensions, not a problem. Our image editor DesignPro will help you design your Twitter cover.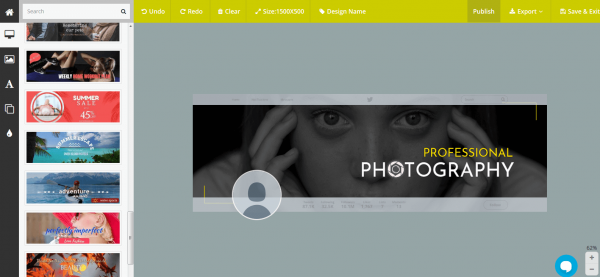 Give Text the Back Seat
As a general rule, text is not recommended. The average social media isn't going to read the text you have crammed into an image so why bother? There are plenty of other places within profile information to include relevant text.
The best Twitter cover photos are clean images devoid of texts battling for attention or ones with little, straight to the point heading.

Like any of the rest Uber visuals, their Twitter cover photo clearly tells their brand's story and is represented by bright colors and geometric patterns.
Give Thought to the Image
When someone new arrives on your Twitter profile, something about your profile needs to compel them to stick around.
Choose photos or illustrations that are striking and clear, with bright colors or bold contrast. The image should reflect the tone of your brand, whether you're humorous, inspirational, tech-savvy, family-friendly, or adventurous.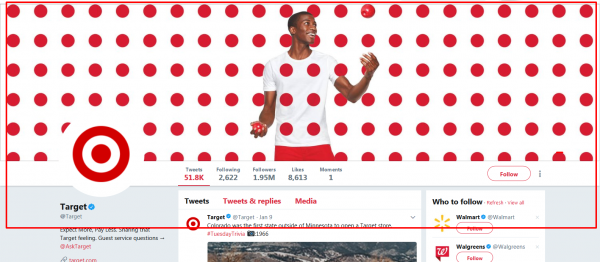 Target's cover photo perfectly complements and reinforces their brand logo with its interesting look and feel.
Images Don't Always Have to Be Photographs
In the current visually charged environment, you could be missing out on a powerful Twitter cover if you are only waiting to use real life photographs. Depending on your business niche, illustrations and icons can serve an excellent purpose.

Top Inspiration for Your Twitter Cover Photography
Not sure about how to focus and give meaning to your Twitter cover photo? Here are top suggestions you can work with.
Season and Trends
You can create a Twitter cover photo that communicates your brand message but riding on the back of seasons and trends. Think about a retail business that designs a cover photo highlighting products that can be used for Christmas, winter or summer. All such photography should feature your brand colours and overall corporate branding elements.

Lego and the Christmas spirit
Marketing Campaigns
Your Twitter cover photo area is prime advertising real estate.  This is why you should consider making your cover photo an image that announces product launches for example or one that is used to communicate special offers to your profile visitors. When going this route, don't forget to avoid noisy imagery. Clear and short messages as well proper negative space usage are vital.


Brand Personalisation
Think about it: Would you rather engage with a company that has a header image featuring a dozen of their happiest employees working together on a cool project, or one that relies on a plain blue rectangle to do the talking?
When your cover-photo is not just another product marketing image, you are telling your followers that you are more than just about a product. Seeing an authentic human face behind a product drastically reduces the emotional gap between a user and a brand.

Show other Social Profiles
This is another interesting way to make use of the Twitter cover photo space. Create a design that puts together high definition shots of all your other social profiles for use as your Twitter cover photo. Do you have an app? It is also a great idea to include a shot of it in the collage.  With this, you can get your Twitter profile visitors to follow your business on other platforms that might appeal to them more than Twitter.

Show Your Product in Use
Think about a sports shoe brand or a wearable tech brand using a neat photograph of people running or exercising as their Twitter cover photo. It is an excellently way to immediately show your audience how your products can fit into their lifestyle.

Show you expertise
If you own your niche, or you are an industry leader, your Twitter cover should show it. If you've written a book – share it. If you are a podcaster, you should say it clearly

Social proof
Social proof is essential decision maker and as a result, entrepreneurs and small business owners are realizing it's an important part of their overall social presence.
So if you've been featured on magazines, have an impressive number of customers or subscribers to your mailing, use that on your Twitter cover. You've got enough space to impress your first time visitors.

Conclusion
Your Twitter cover photo is one of the most important elements of your profile. Give its design the right level of attention and use only targeted imagery to enjoy the benefits it holds.
To get a quick start, take a look at our pre-made design templates for Twitter cover.