As we have seen in other chapters of this guide, Twitter users only have a few moments to form an opinion on your profile and to decide whether to follow or ignore.
A Twitter bio is yet another important feature of your profile that will help you draw in the prospects. It might be a challenge, considering you only have 160 characters to explain who you are, what you do, and why your Twitter is worth following.
This chapter shows you how to write an attention grabbing Twitter Bio and give some awesome examples of clever bios.
Examples of Clever Bios on Twitter
Tell People Exactly What You Do In Your Bio
This may seem apparent but you would be surprised by the number of people who don't tell explicitly what they do in their Twitter bios.
It can be hard for a writer to stand out among the sea of would-be writers in Twitter but Candice Walsh managed to do just that with her Twitter bio. She puts the two things that she's known for as the first line of her bio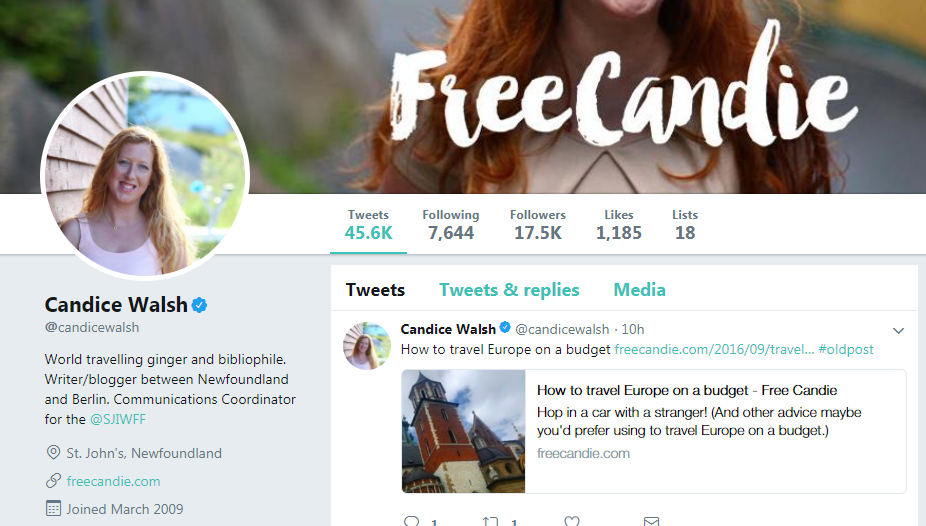 Show Your Sense Of Humor In Your Twitter Bio
Johnny Cupcakes is a popular Boston-based clothing brand and not a cupcake bakery, despite the name.
Their Twitter bio is a perfect example of the brand's style of wit humour, which gave them a huge and active following.
Let your creativity flow and show your audience that you have a sense of humor.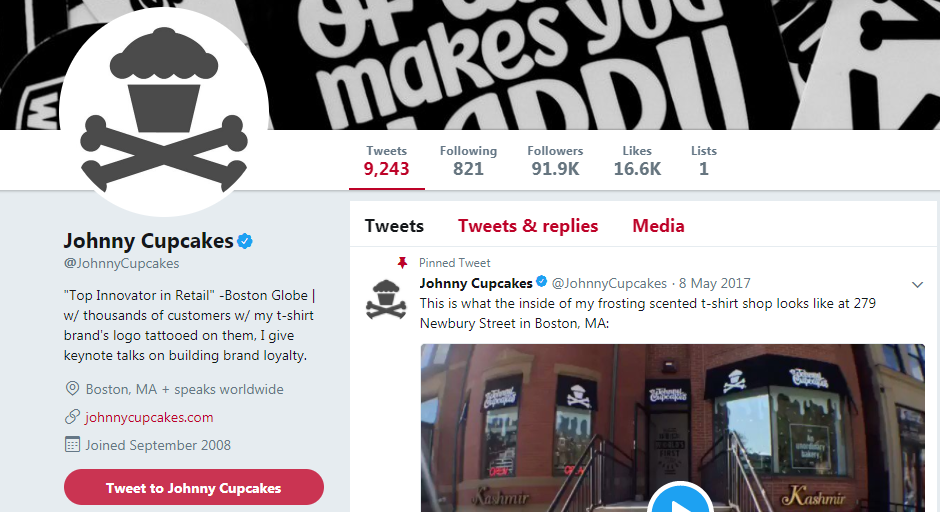 Put a bit of Personality into Your Twitter Bio
Even though Skittles is a huge brand, they managed to add a bit of personality by using words such as "awesomeness" to describe their Twitter bio. It's perfectly in line with their bright and colourful image.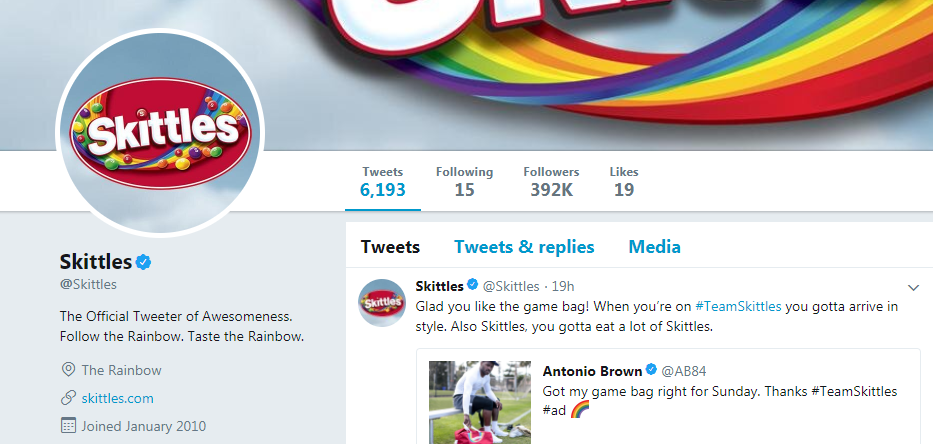 Speak to your target audience
If you know your audiences well – who they are and what they are expecting from you, use this to your advantage.
Victoria's Secret do a great job. Their Twitter bio states that it's the place where "Angels, Bombshells & the sexiest followers" can get all their daily dose of sexiness from the lingerie company. Their fans can easily identify themselves in the brand message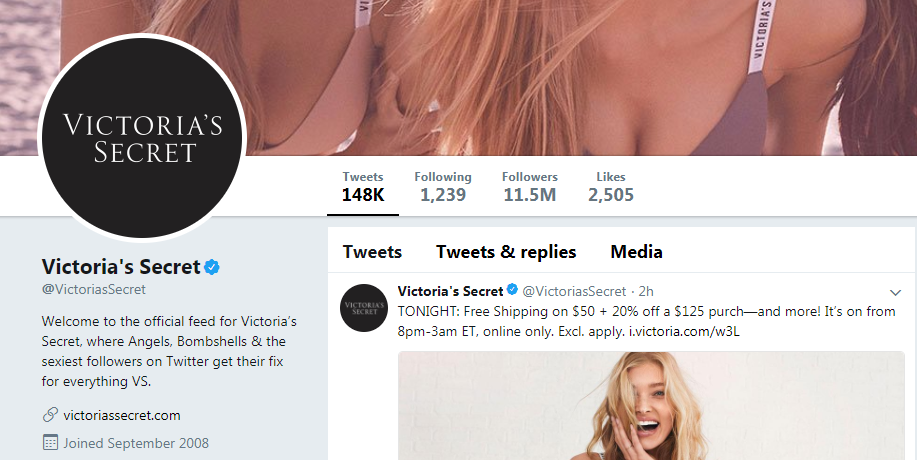 Offer a lead magnet in your Twitter bio
Free online courses are a great lead magnet and a good way to build a list. What's better place to attract peoples' attention than the Twitter bio.
By offering users a free workshop, Melyssa Griffin managed to tell people about her work as a digital marketer while simultaneously including a link to her online course. Now that's smart marketing right there!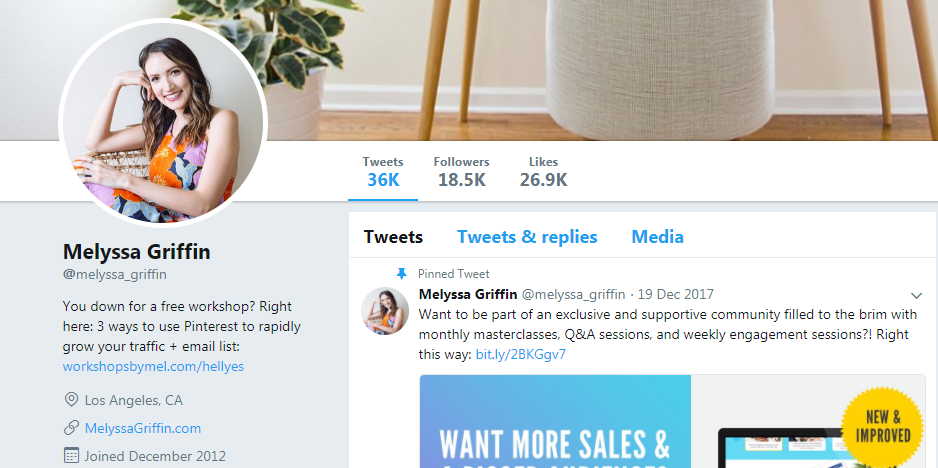 Add a social proof in your Twitter Bio
The podcaster and digital guru Nathan Latka smartly talks about his career and how his The Top Entrepreneurs podcast has passed 4.5 million downloads in his bio. That's a huge number and great social proof for anyone to check it out.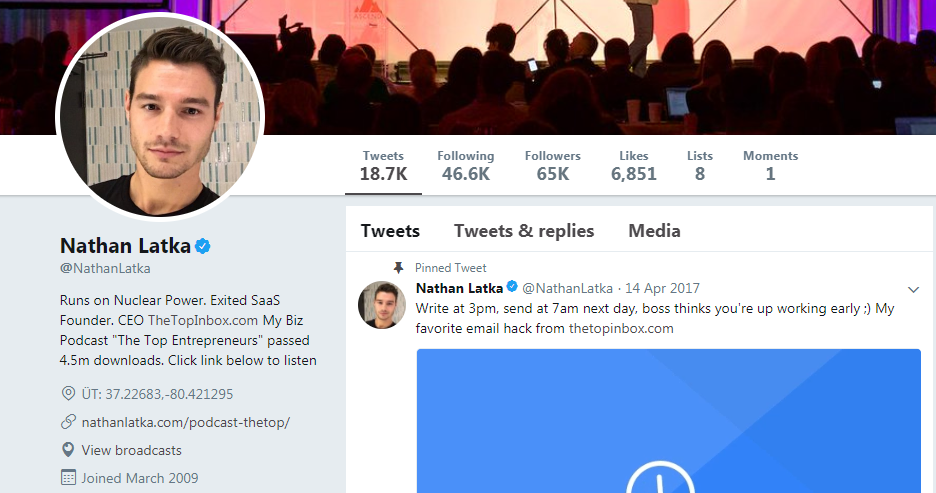 Are you ready to put your creativity side to work?
If so, first read a few more tips and mistakes to avoid while crafting your Twitter Bio
Highlight Intention
Why was your Twitter account created? The intention behind a business profile is most likely to spread the word about a brand and connect with the brand customers. Such a profile is not the place for a Twitter bio that discusses your love for football or rugby.
Talk about your business and why people should trust your brand. If you have worked with other brands, mention that. Include a link to your website but only in the part of the bio meant for website links. Multiple links in other parts of your bio will make it look too pushy.
Avoid Lies or Halftruths
Twitter as a platform is one where "calling outs" and "criticism" are perfectly normal. Avoid anything that automatically makes you a target. If your business can only serve locally, don't include "nationwide delivery" in your bio. If you haven't worked with a Fortune 500 company, don't mention them. People will notice faster than you'll expect and as a small business, you may never fully recover from the backlash that will follow.
Be Grammatically Correct
Twitter, like most social media platforms, come off as laid back when compared to others like LinkedIn. However, this doesn't give you the liberty to have blunders or spelling mistakes in your bio. To maintain the air of professionalism around your brand, take your time to spellcheck everything to be sure you haven't made any single mistake.
Don't Include Testimonials
Your bio is not the place to add testimonials. Your website (and occasional Twitter posts) are the right places to show off positive reviews about your brand. Your Twitter bio is the doorway to bring in people to those places.
Don't Oversell Yourself
…But don't sell yourself short either. Instead of calling your new catering business a "World Class Catering Service" for example, call it "A Vibrant Catering Business Serving the Bay Area". The latter description talks exactly about your level without selling your brand short. This way, you can actually surprise with your service rather than underwhelm!
Conclusion
Your Twitter bio is a door to your profile and ultimately your brand. Be direct and persuasive while avoiding any claims that could take away from your brand.