Let's start this discussion with the question "Why a pinned Tweet is so powerful in driving you a ton of traffic?"
Why You Should Pin Tweets
Pinned Tweet is one of the first things people will see when they come to see your profile. The number one area that people go to and click on is your very first tweet. That's why it's so powerful. That's why you really want to control it. What will turn your Twitter into business leads, traffic and dollars of course is HAVING A VERY GOOD PIN TWEET.
However, many people tend to overlook this.  It is good to have an excellent profile and cover photos, as well as an excellently crafted bio but ignoring the option of pinned tweets is missing out on branding/marketing opportunities.
When you pin tweets, you are automatically increasing the number of engagements on that particular tweet. Normally, tweets disappear from people's timeline as the day passes. So a tweet from two days ago (no matter how catchy) will likely be forgotten in 48 hours except for when it has generated many Retweets and Likes. Even in such a scenario, the interactions will most likely stop coming in after a short period of time.
Pinning that particular tweet, however, ensures  that new people discovering your profile for the first time can still see that same tweet. People that already know about your profile can also be reminded.
The resulting effect is more clickthroughs and interactions.
What is a Pinned Tweet
A pinned tweet is a tweet that is "glued" to the top of your profile. Every visitor to the profile immediately sees it. It is possible to pin any tweet you have ever posted in the past and it will immediately go to the top of your profile. It will remain there, with all new tweets appearing under it, until you pin a different tweet.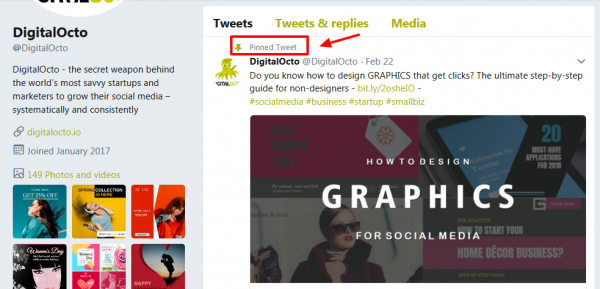 How to Pin a Tweet
The process of pinning a tweet is straightforward. After you have published the tweet, take the following steps.
Find the tweet
Look for the downward pointing arrow to the extreme top right. Click on it.
In the resulting dialogue box, choose the Pin to Profile option
Refresh your profile to be sure the action was completed.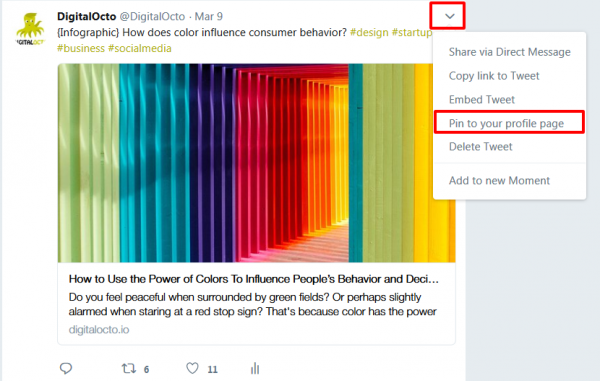 The process is the same for when you want to unpin a tweet. Simply  choose the unpin tweet option in the dialogue box.
It is important to note that pinning a tweet is not the same as reposting it. The time of tweet publishing won't change so people aren't going to see the tweet reappear on their timeline. They can only see it when they visit your timeline again.

What Makes A Good Pinned Tweet?
Now that you have learned how to pin tweets, it is time to consider what makes a good pinned tweet.
The two musts of a good pinned tweet:
1. A good photo/image
If you are not using image, your tweet takes so little space that it's hard to be seen. People love images. They are extremely powerful.
RECOMMENDED TOOL: DesignPro is the perfect image editing tool for non-designers. It's simple and intuitive, and you can easily start using it without the hassle of having to read complicated tutorials. Plus, you can get a kick-start and inspirations from 1500+ pre-made design templates.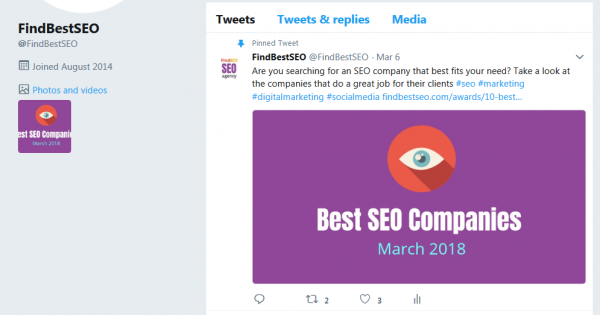 2. A great offer
It doesn't matter what your business does. If you attract the right people through SocialGrowth to visit your Twitter, you should give them something of value. So that they are going to click on it and then give you their email address, listen to your podcast or YouTube video training; come to your retail store, or to your service business website.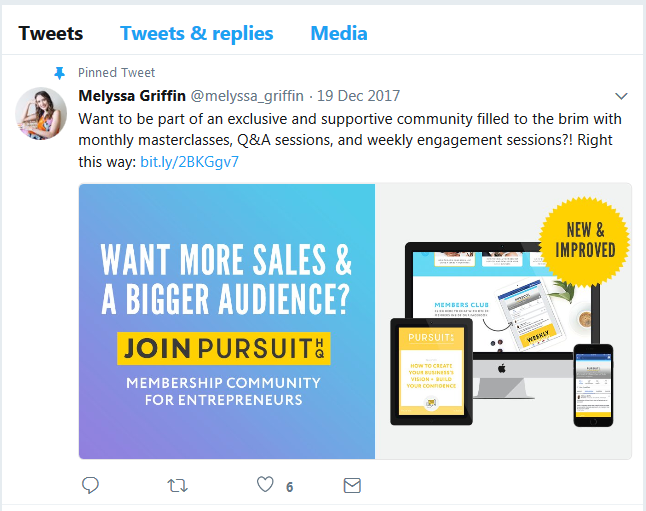 What tweets can be pinned?
The goal of your Twitter account will go a long way in determining what tweets can be pinned. Many brands use pinned tweets to create awareness, boost website traffic, increase engagement, generate more leads and more. This section looks at some great examples of Tweets that can be pinned:
• Highlight a recent blog post
If you have a blog post that has gained lots of traction in recent times, it might qualify as one of your best work yet and should definitely be shown off to first time visitors to your profile.
• Pin your most popular tweet
No better way to show off your Twitter clout than pinning your tweet with the most interactions. This is popular across private Twitter accounts but many brand accounts are going with this trend. Show off a tweet with 50+ interactions (Retweets and likes). If people are engaging with the tweet because they liked it, new visitors to your profile will equally like it. Additionally, Twitter users feel better about following people or brands they can regard as influencers.
• Pin your product (or service)
If your brand sells any product or service, your pinned tweet section is a great place to use as a constant reminder. A good tip is to avoid generic posts as your bio (if done correctly) should already state what you do. Go deeper with the product mention.
• Showcase your followership or subscriber base
If you have a healthy social proof, create a custom picture that shows this off and pin it to your profile. No better way to show off your brand power than to let profile visitors know that you have thousands of followers spread across several platforms. This will automatically enhance your trust score in the eyes of a prospect, increasing chances of straightforward progression through the conversion funnel.
• Showcase a Testimonial
Potential customers always want to see what other people think about your products or services. Pin positive testimonials. Got lots of tweet testimonials? You can combine them into a two minute video collage.
• Highlight your contact channels
Where can customers reach you? Use the pinned tweet feature to show customers how to get in touch quickly if they've got any concerns or questions.
• Advertise vacancies
If you are looking to fill some positions, announce the vacancy on Twitter and pin it to your profile. This makes it easy for people looking for a job in your niche to find it. A good tip is to ask for a retweet in the post. People on Twitter are always quick to retweet vacancies as their way of helping others to get a job. The retweets bring more impressions to your profile and you might find the right personnel to fill the vacant positions. Win-Win!
• Show off a case study
Do you have a carefully crafted case study that shows off how a customer was satisfied with your product or service? Showing it off works wonders in terms of increasing customer trust. Such case studies belong to your pinned tweet section. If you've got a few of them change things up once in a while. Use a new case study every fortnight but with catchy introductions that trigger interest.
• Pin Twitter Cards to Generate Leads
A twitter card that is designed to collect contact details from profile visitors works great for the pinned tweet section. When properly designed, users can sign up for your offers straight from the tweet without visiting your website. This works great because the shorter the process a customer has to go through in the process of handing out details, the higher the chances of them providing it.
• Show off a tweet where you interacted with an influencer in your niche
If an influencer has some nice words about your brand in any way, you have to show it off. It could be a simple comment on a post you published or a mention of your service.  Don't miss the chance to leverage their influence.
• Pin an upcoming event
This could be an upcoming webinar or an upcoming promotional sale. Pinning the tweet announcing it is a great way to bring more attention to it and increase the number of respondents or attendees. Other events you can pin are offline meets or a Twitter Q&A session.
• Pin Questions
Social media users like to get on puzzles and questions so you can use it to boost engagement rates. Ask thought provoking questions and, to sweeten the deal and push interactions through the roof, add a giveaway for correct answers. A good way to know questions that will resonate with your followers is to delve into your Twitter analytics to find niches that are of the most interest to them.
• Pin a Poll
If you have a poll that needs more attention, pinning the tweet is a great way to do just that. Twitter users are always ready to offer their opinion on a poll as long as the topic is one that they can relate to.
• Show off the human side of your brand
It could be a video of your employees at a cook out or a collection of images showing the faces of your employers at work. Such tweets go a long way in creating a bond between you and your followers.