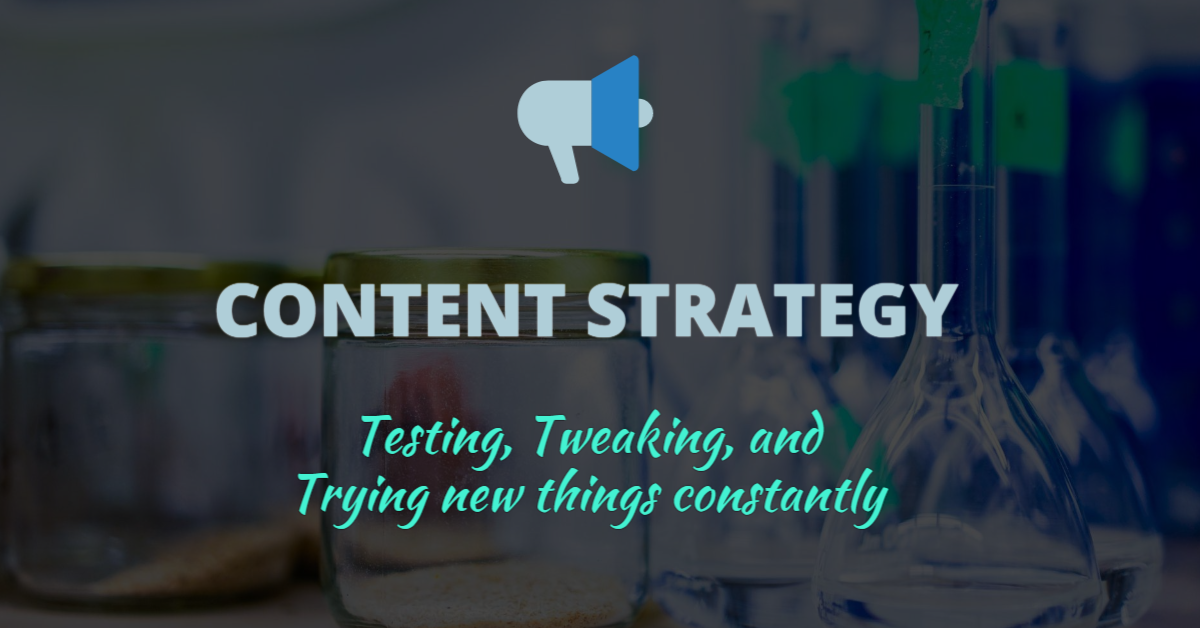 Simply put, an effective Twitter content strategy is one that delivers a steady stream of tweets that can capture and possibly retain the attention of a Twitter user.  On the surface, a Twitter content strategy should cover the following:
Share information about your brand that is useful for current and potential followers
Share information that helps build confidence in your business
Show any profile visitor that you have interest in others and communicate effectively though questions, responses and general engagement
Share links to posts from your website or posts to other relevant content in your niche
Shows excellent customer service
Regular posting schedule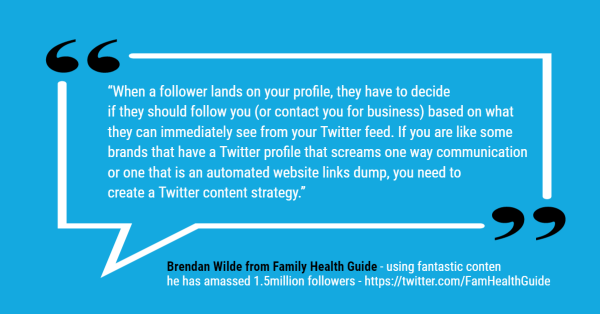 How Often Should You Be Tweeting?
If you'd like to join the top 12% of Twitter users that generate billions of impressions a day, you need to be tweeting 15-17 times a day. Before you run off, however, you need to understand that audiences are unique.  While a multimedia brand can get away with tweet 20+ times a day, a startup brand selling a specific product might end up getting muted or unfollowed for doing the same thing.
Before you settle for a specific number of tweets, go back to your Twitter Audience Insights. This will show you the breakdown of your audience based on a wide range of metrics. After the analysis, you can decide if a certain number of tweets will be too much for them or not. An audience made up of largely 35+ year olds might be less fussy about multiple tweets from a startup brand compared to a younger demographic.
Even when you decide to tweet 10+ times, your analytics will show you focus points to tweet from to avoid losing followers.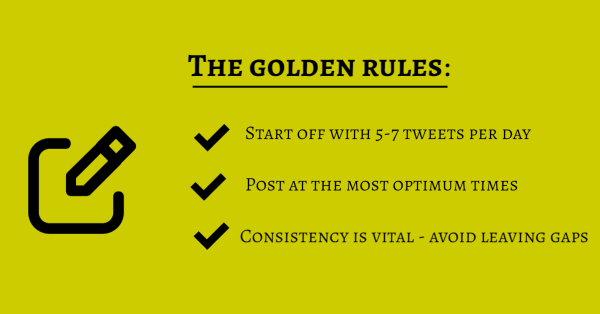 A good rule is to start off with 5-7 tweets per day, sent out at the most optimum times, then slowly work your way up to the 15-17 tweets range. As you change the numbers, keep an eye on how your various tweet number changes your metrics. If you find out that 5-6 quality tweets do better than 10-15 tweets laced with fillers, stick to the former.
One last important point you should keep in mind, avoid leaving gaps. Consistency is vital when it comes to Twitter. You are only as relevant as your last tweet.
What Should You Share?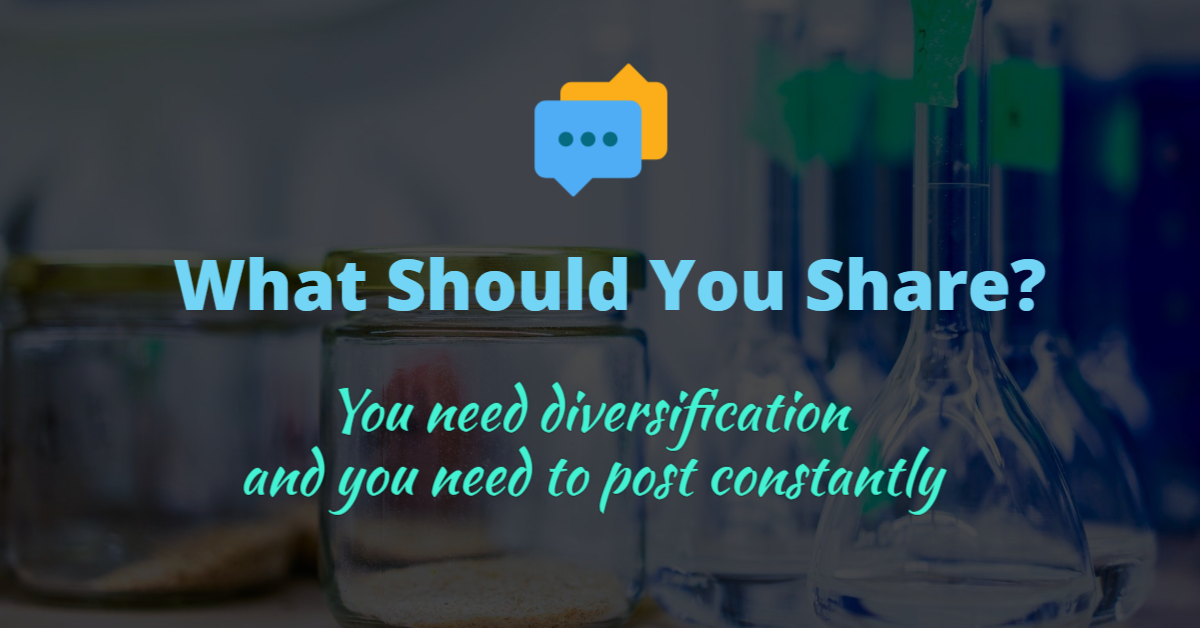 What should be the makeup of your tweets? The secret is simple: you need diversification and you need to post constantly.
You need to mix up content – blog posts, quotes, promotions, product reviews, ebooks, testimonials. It's all about mixing it up and make it the whole day.
I hope this doesn't scare you. In the next chapter, we will discuss  how to share your own content on Twitter spending 3-4 hours per month with a consistent system that will drive you traffic.
• Product Advertisements
You are on Twitter to bring more attention to your brand.  Advertise your products and services in tweets. Create nice images around them to increase the overall appeal.
• Get Customer Feedback
From time to time, you can ask your customers what they think about your brand or where they think you can improve. However, this is only effective when you have built a healthy follower base. If you ask for feedback without any responses, it is a negative social signal.
• Reply to Enquiries
…Or give attention to positive tweets. Your customers love it when you respond to their messages. Take out time to respond to as many mentions as possible. When you find a negative mention, do not ignore. Do your best to address the problem.
• Highlight your contact channels
Where can customers reach you? Show customers how to get in touch quickly if they've got any concerns or questions or share all your other social media channels you have. People are different and would prefer to stay in touch with you using other channels. So do not miss this opportunity.
• Join Trending Hashtags
Every day on Twitter, different hashtags makes it to the trending topics page.  Go through them and find those that are relevant enough to be tapped into. You may need to be witty to tie your business to the hashtag and you have to absolutely get it right. Failure to do so, it will come out as forced.
• Talk about offers
Do you have any special events coming up? Are you organizing promotional sales? Have you just launched a new product? Get your followers talking about it by announcing it.
• Share motivational quotes
This works best for brands in media or advocacy but regardless of your niche, you can find quotes that will resonate with your target audience. Make sure all quotes you share are in line with your brand's ethos.
• Announce job openings
Your Twitter timeline is one of the best places to talk about job openings in your business. Apart from the fact that it makes it easy for potential employees to find the position when they use the search function, other users sharing the job opening is a way to spread the word about your brand.
• Talk about brand achievements
One of the best ways to use Twitter as a brand is to cultivate the feeling trust within the ranks of your target audience. One of the best ways to achieve this is to advertise any awards and accomplishments achieved by your brand. It will improve the level of trust and credibility for your brand.
• Share Niche News and Current Events
You can tweet about all the latest happenings around your niche. It is the perfect way to show that your brand is connected to its roots, is committed to relevance and is committed to developing trends.
• Hold Promotions and Contests
Your followers will always be up for a contest. Tweet about contests with worthy prizes at the end and you are almost near certain to generate buzz.
Take full advantage of this, even when your profile has become popular.  A contest where people have to follow your brand, retweet a tweet or take pictures with your product is a great way to ramp up the impressions for your Twitter profile.
Apart from the obvious advertising appeal, contests are an excellent way to build a connection between you and your fans.
• Retweet Tweets from Your Customers
On Twitter, you don't have to always come up with original content. If you have been mentioned in a positive tweet by a follower, simply retweet. You get to use free, unsolicited positive comments to build your social signal a bit further.
• Get Playful
This is dependent on your assumed social media language. However, some of the most influential brand profiles on Twitter are those that know how to blend the corporate speak with some wit and overall fun Find a way to connect jokes to your products from time to time.
• Divulge Relevant Brand Information
You can talk about your brand history, partnerships and anything else you can think of. Your follower base can relate more to your brand when they have such knowledge.
• Share Behind the Scenes Information
Once in a while, show off the human faces behind your brand. A short video showing a normal day at the office, a video showing products getting delivered to a happy customer, a brief video of a staff dinner party and any other such images you have can go a long way to build a bond between your brand and your social media followers.