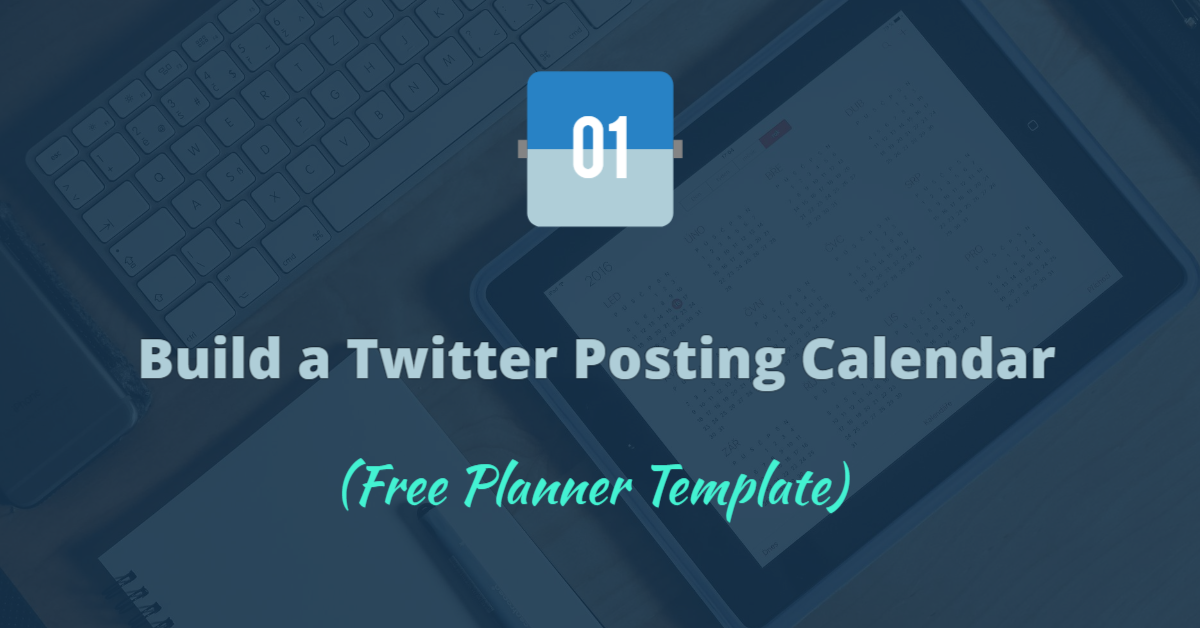 Creating a Twitter content calendar from scratch is one of those tasks that seems ridiculously complicated at the beginning but once you put the groundwork, you will see that it will take you less and less time in the weeks to come.
Do not forget that your purpose on Twitter is to build followers and drive sales to your business. You already know that you should be tweeting on a daily basis.
Do you know that individuals who make millions of impressions and are driving HUGE traffic from Twitter, are actually those individuals who tweet more frequently?
They typically tweet 6-7 times more frequently than the rest 80% of the folks on Twitter. And they are not driving 6 or 7 times more traffic as you can assume. Actually they are driving 40x more traffic. Can you imagine that?
For you to get the same result you should actually spend some time to set a consistent system to drive that traffic and this FREE Planner will help you devise one.
If you do not want to feel stressed out and overwhelmed, keep reading to learn how to organize your updates and maintain a high volume of quality tweets without losing your mind.
It's time to organize your tweets with a comprehensive social media calendar. Here's how:
Download the template below. It's a free Excel-based spreadsheet, pre-built with everything you'll need.
Learn how to use it by following the tips in this post. We'll walk through the entire workflow that will help you get more done in less time.
Let's get started.
Grab the FREE Excel Twitter Planner
It's time for a handy Excel planner to help you plan your social media updates and create the images for them. This planner has space for ideas, planning, tips and tricks for creating visual content easily and quickly – even if you are not a designer or a marketer. It's the one I use with my team, so grab your copy now and refer to it while you read this blog post.
The Goal of a Twitter Content Calendar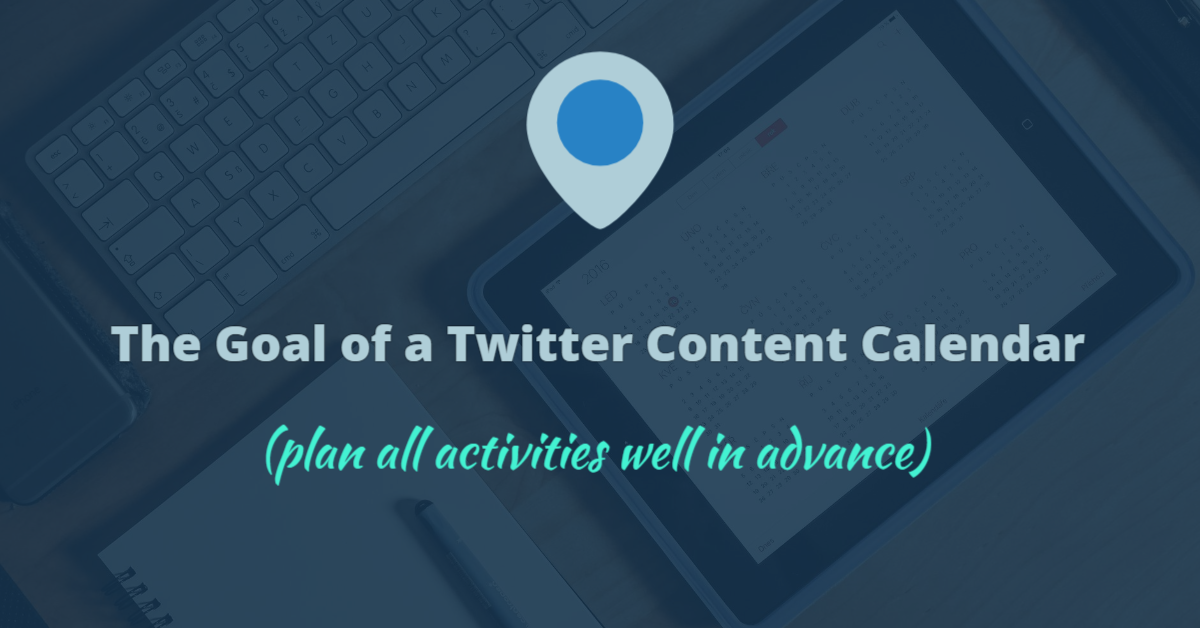 A Twitter content calendar is meant to help you plan all Twitter activities well in advance. Pre-scheduled social media content will become your new best friend. Some people prefer to get it all set for a week, other for the whole month. It's up to you to decide what approach suits you best.
The benefit of using the calendar format, rather than just a long list of content to be published, is that you can visualize how your content is distributed. This allows you to:
plan content around key events in your industry, important dates, or big holidays;
mix up different content types for better results;
see where you have gaps in your plan.
If you combine your Calendar with a scheduling tool like SmartPublisher, you will soon see how efficient and effective this solution could be. SmartPublisher will add a level of automation (plus other powerful features) that spreadsheets can't match.
HOT TIP: At the beginning, a week ahead planning is the right way to go. Why? You still do not know what will work and what will not. You need to test things out. Create a posting schedule for a week and at the end of the period, you will be able to assess the results of your efforts and based on your conclusions to plan out the next week.
Remember, if you are persistent, with the help of SocialGrowth you will be able to get a steady stream of new followers every day and with the right planning of the content you will get those targeted users to buy your products, click on your posts or subscribe to your email lists. As with everything else, building relationships takes time. So just keep going.
Building a Content Calendar in Four Easy Steps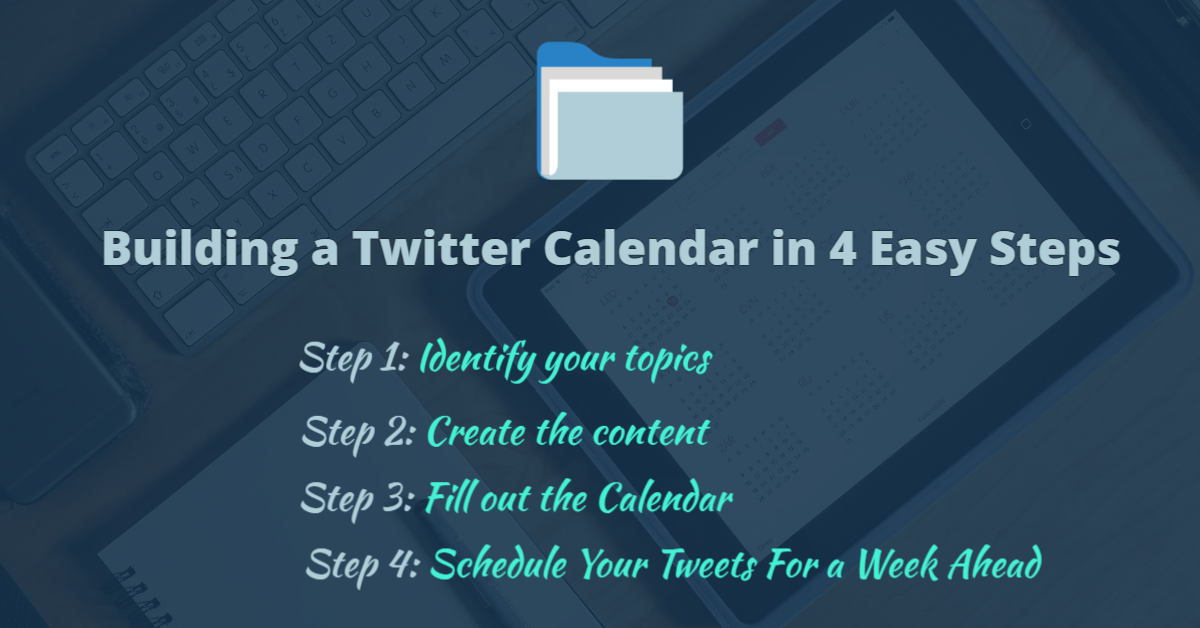 Below is a simple 4 step system that will help you create your calendar with ease.
Step 1: Identify your topics
To turn your Twitter into marketing machine, all you need is diversification. If you're only pushing your own content, you're unlikely to drive much engagement. The same is true if you're only publishing one type of content.
You need to mix up the content and schedule it to get posted regularly throughout the day – blog posts, quotes, promotions, product reviews, ebooks.
Here's what your content mix might look like: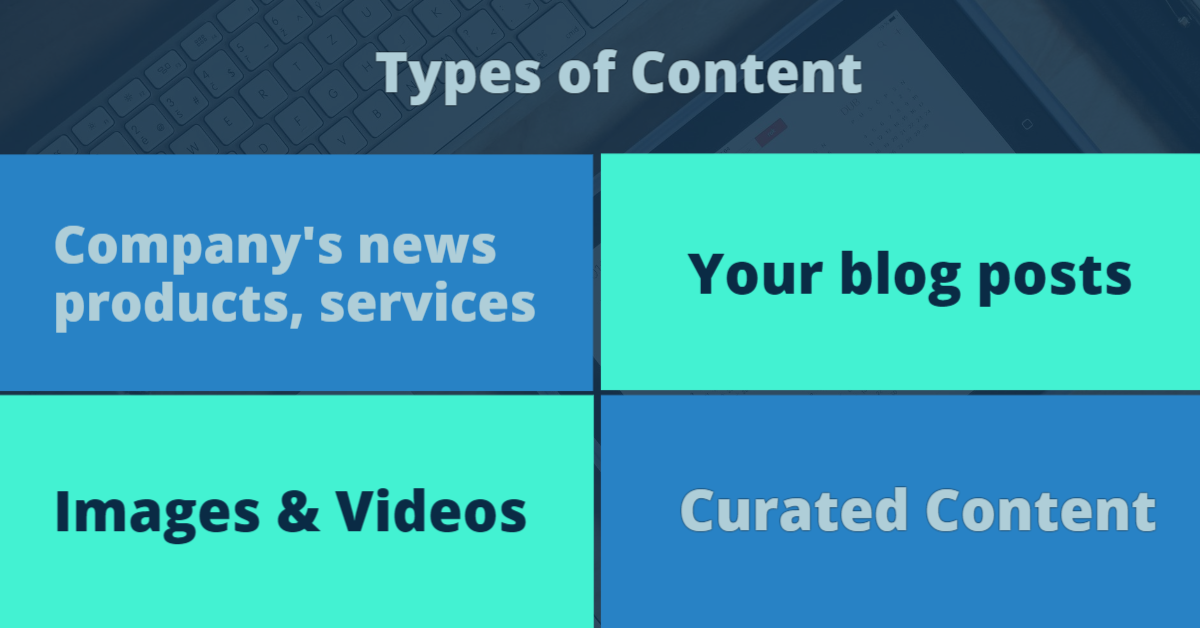 Look at your business. What are your key selling points? What's your unique value proposition? Do you have customer testimonials or product reviews? Any social proof? What's your best selling product or service? Do you offer free webinars? Free trials/samples?
Answering all those questions will give you an idea of the content you want to post regularly because it's essential for your business to drive traffic to it. This is where your money comes from.
Landing pages where you capture leads, offer freebies, or sell an ebook
Promotion of products, services, free trials, or samples
Showcasing customer testimonials
You can't just post promotional stuff and expect people to stay engaged with your company. As you already know, mixing up different content types is what works on Twitter. Here are a few examples:
Quotes
Data (Infographics, statistics)
Blog posts
Video (hot, hot, hot!)
Gifs/Memes
Behind the Scenes (a look into your business)
Tips and How-To's
Questions
Three Tips For Keeping Your Twitter Calendar Full

Keeping your calendar full can be hard. However, there are some tips you can follow to make it easier.
Write Multiple Posts Promoting One Article Or Product
You have an awesome blog post or web page to promote. Consider writing multiple messages and creating a couple of images for that one page. This can cut down on the number of links you need to share.
Reuse Messages
Consider resharing your best posts on an ongoing basis on your calendar. With SmartPublisher, you can save times and schedule those posts to go live on different days and at different times.
Curate Content
SocialGrowth gives you suggestions for tweets that are relevant to your market. You can go every day to your SocialGrowth and retweet the ones you think are insightful and will spark interest.
Step 2: Create the content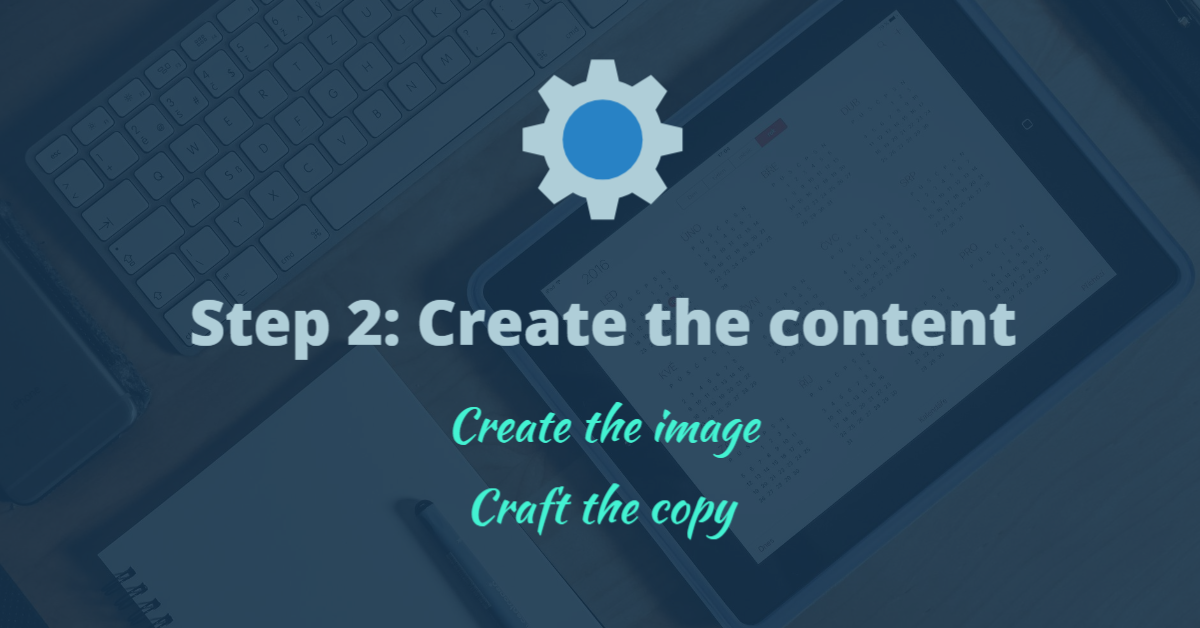 It's time to prepare a bunch of eye catching posts with well-crafted copies. The elements of a good tweet:
Simple, clear message
Good image reinforcing the text
Hashtags to boost your online visibility
If you missed it, you can find more on the topic in the previous chapter: How to Create an Effective Twitter Content Strategy.
Write Your Post Message
If you don't want to write your posts directly into your spreadsheet, use Word, Google Docs, or whatever you like. Lay out your document like this:
Post 1 Message: [ENTER POST]
Post 1 Image: [INSERT IMAGE NAME OR URL]
Post 1 Link: [INSERT URL]
Post 2 Message: [ENTER POST]
Post 2 Image: [INSERT IMAGE NAME OR URL]
Post 2 Link: [INSERT URL]
Continue until you've completed all your posts for the week.
Create your image
Next, you'll need to discuss your ideas with your designer and get their creative input.
If you do not have a designer, not a problem. You can create awesome design yourself with DesignPro – intuitive graphic design tool for non-designers.
Go to DesignPro and choose New Design option in the right-hand menu.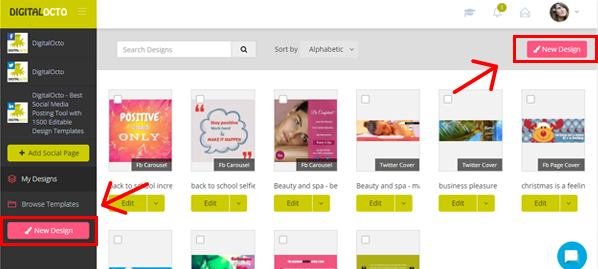 Choose the right size
That's easy. Landscape works best on Twitter. You can also use it on Facebook, LinkedIn and Google+.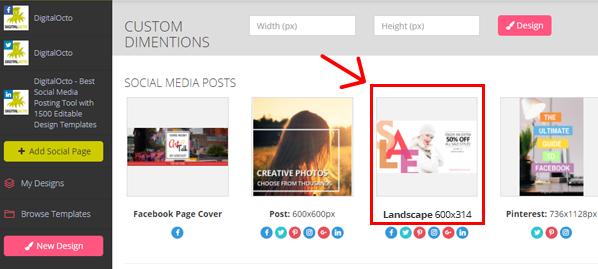 Select a template (or start from scratch)
A great way to start out is to use one of our ready-made templates and edit the text, font, and color (even the background image). Then as you get savvy with this, start creating your own.
However, if you prefer making things your own way, check the Beginner's Guide to Creating Social Media Graphics That Convert .
In the template section, you can scroll down to find a template, or try searching by keywords: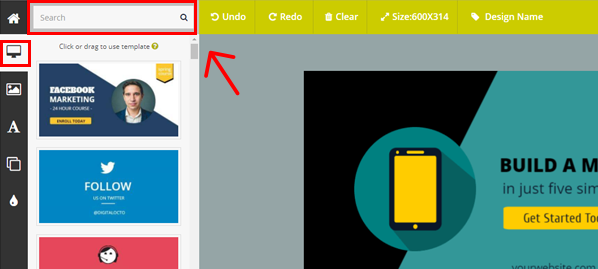 Make edits
Once you selected the template you can change pretty much everything or use it exactly as it is.
TIP: Always try to add your company logo to your images. This is the easiest way for your current customers to recognize your posts while scrolling down their News feed. It also helps create brand awareness.
Name the graphics
It's very important because this is the easiest way to find your design later when you start scheduling your posts.
Just click on the Design Name button in the main navigation and write a unique, descriptive name.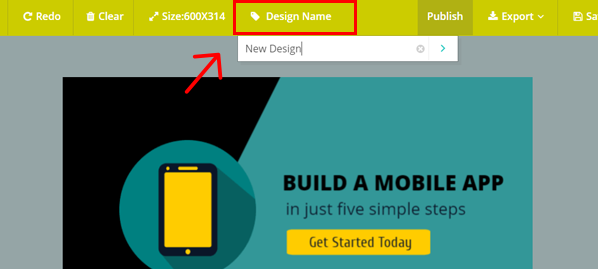 Your graphic is ready
Congratulations, you've just created your first graphic. Click on Save & Exit button in the right-hand corner of the screen to go back to your own designs section.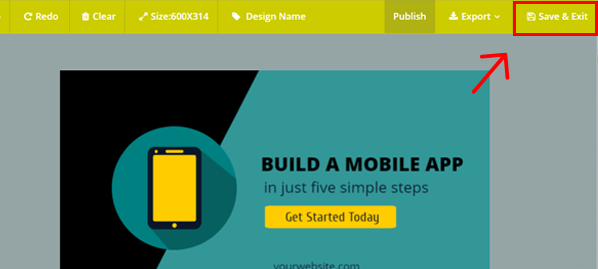 Step 3: Fill out your Calendar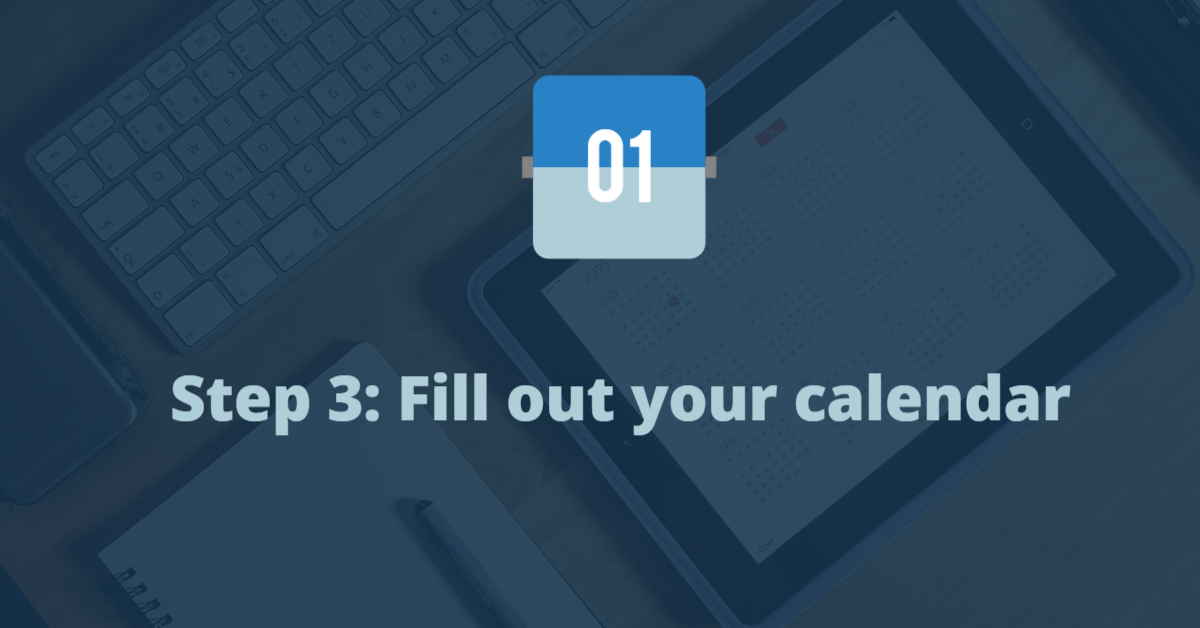 Now let's explore how to use the calendar step-by-step. If you haven't downloaded it yet, you can do so now:
The calendar is an Excel file that you can either download to your desktop or upload to Google Sheets (TIP: a great option if you collaborate with other people)
Enter a starting date
When you open the Twitter calendar, the first thing you need to do is update the date. After you enter the starting date, your calendar will be set for the next 7 days automatically. You can always add more days, if you need.

You can enter the date in different formats, Excel will recognize it. For example you can type in "1 mar 2018", or "01-03-2018" or even just "mar 2018".
Add All Your Content Onto Your Calendar
You have already prepared all the content for the week. It's time to place it all on the calendar.
There are several different colored tabs at the bottom of the spreadsheet. Each of those tabs is dedicated to a specific content type and is color-coded for easier recognition.

Here's a quick breakdown of each type:
Holidays – Here you can list all upcoming holidays that are relevant to your business.
Campaigns – If you plan running a 7 day campaign for a holiday you can plan each days leading to the holiday itself.
Evergreen – all your best performing posts will be here. Make sure to republish them regularly.
Content – list of interesting content worth sharing with your fans
Products – promotional posts for your own products
Engage – list all funny and engaging post ideas here. It is important to keep your fans engaged.
Other – in this section you can add all content that don`t fit in the other categories – like webinars, eBooks, ect.
You might not need all those tabs. It depends on the types of content you plan to post. You can always customise the tabs based on your own your preferences.
Now you should enter your content.

In the example above, the selected tab is Holiday and the content is a tweet related to Valenine's day. All necessary fields are filled out: the date it should go live, message, link and image.
Repeat as necessary until you've entered all your content. Follow this same process for every post you create.
Twitter Calendar Planning
Once you added all your content, it's time to start planning the different time slots.
For that purpose, you should go to the "Twitter Calendar" tab where you can see an overall snapshot of your upcoming Twitter posts. It'll help you keep organized and coordinate with other collaborators.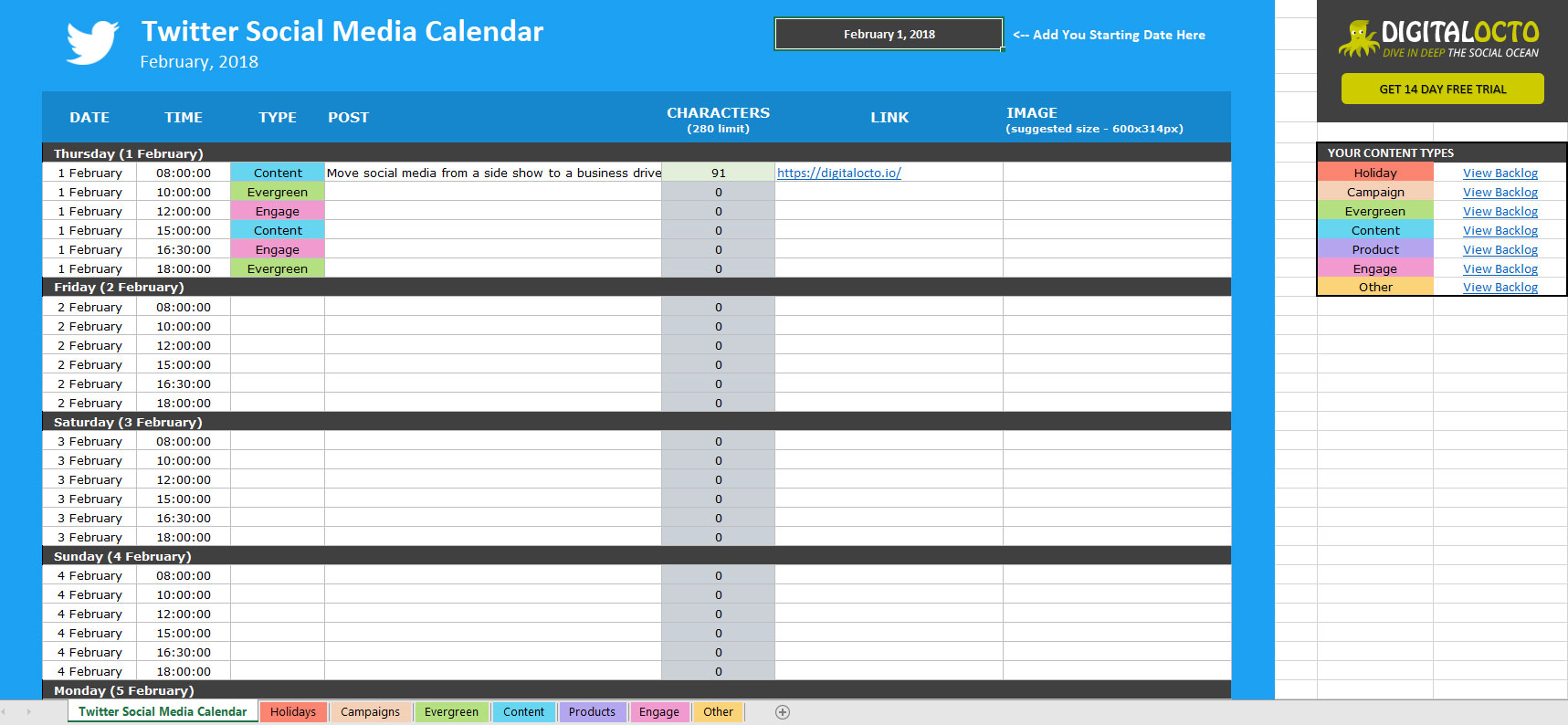 Planning ahead
Your first step is to plan what content type you will publish in each time slot. In order to do that you need to simply copy a cell with the content type color and paste it in the "type" column for the time slot you want.
Once you have planned the type of content and you need to populate your calendar with the actual posts for any of the time slots. In order to do that you just:
open the content type tab (or click on the link from the right navigation)
copy the piece of content you like
go back to the "Twitter Calendar" tab (or use the "BACK TO THE CALENDAR" button)
paste the content in the desired time slot

FAQ
How to add more days to the calendar
In case you want to add more days to the calendar you need to copy the last day and paste in the bottom of the table:
How to add more time slots
If you plan to post more than 6 tweets per day, you can easily add more fields by simply Copy and Insert a new line:
Alternately, you can do this all in SmartPublisher, too.
Step 4: Schedule Your Tweets For a Week Ahead
The final step is publish your tweets. A great way to approach this task is schedule all your tweets for a week ahead with a scheduling tool like SmartPublisher . It's easy and fast. And it saves tons of time. Learn more about it here