DesignPro is a browser-based graphic design tool that makes it easy for non-designers to create great images for their social media, emails, blog posts and ads.
We are excited to help you create your first image. Just follow the steps below.
Good luck!
Open DigitalOcto in another tab and follow along!
Step 1 Create new design
Whenever you want to start creating a new design, click on the New Design button in the left-hand menu, or on the same button at the upper right-hand corner.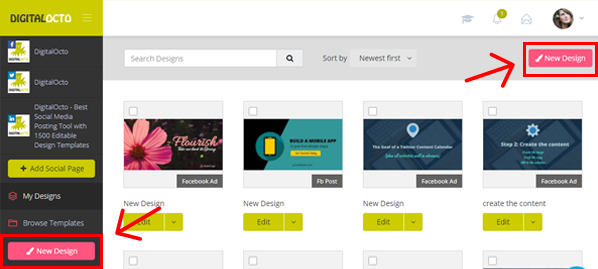 Step 2 Design Types
At this step, choose the format of the social media post you want to create.
Things to consider before you select the size of the image.
You do not have to be familiar with all image sizes and variations for the different social networks. Once you decide where you are going to post your image, you will know the best size.
Three image sizes cover most platforms: Square, Portrait and Landscape.
Landscape works well on Twitter, Facebook, LinkedIn and Google+.
Square works well for Instagram, Twitter, Facebook, Google+.
Portrait works well on Pinterest (and can be shared reasonably well to Facebook or Google+).
You can also want to create a Facebook Cover or Twitter header image
The first impression is very important, so we strongly advise you to create an amazing features for your Facebook and Twitter profiles.
Select the type of image, you will create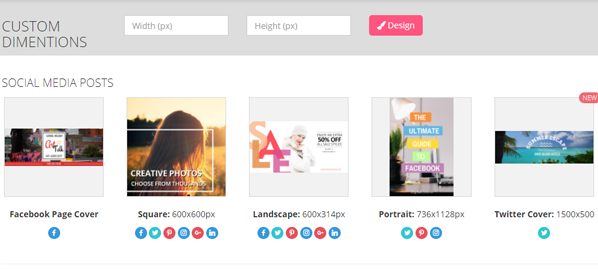 Choose a stunning design template
Need design inspiration? Want some help getting started? Templates are the easiest and fastest way to design because you don't have to make everything from scratch.
A template is a design crafted by a professional graphic designer, free to be customized any way your heart desires.
You can either scroll down to see the templates or make a search for your keyword. Clicked on the selected template and you are on your way to make it your own.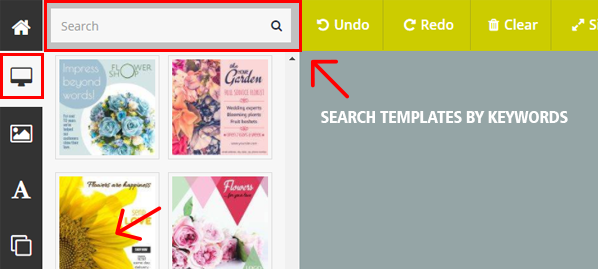 Step 3 Set your Background
You need a great photo to set the scene. It's nice if the image is relevant and eye-catching.
Free Stock Photos
You can search for photos on DesignPro FREE IMAGES tab. You can play around with some keywords search to find the best image.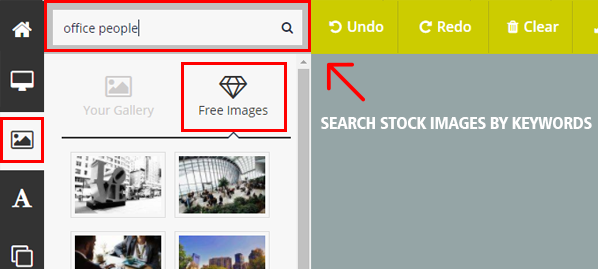 Upload your own photo or logo
Go to YOUR GALLERY tab. Just drag and drop the image from your computer to the UPLOAD box or Click on the UPLOAD box and find your image from you PC. Photos you've previously uploaded will be saved there, too! Nice.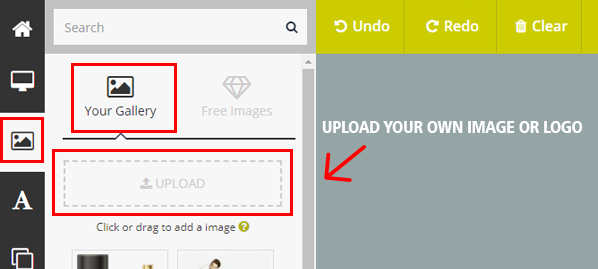 After you chose an image for your background, you can resize it by clicking and dragging outward from the corners so that the photo fills up the entire canvas or take the right place.
If you want to remove an image from the canvas, select the image and press the delete key on your keyboard.
If you need to send the image to the top or to the back, read this short guide
Click the Backgrounds tab to select a solid color for your background, or one of the patterns.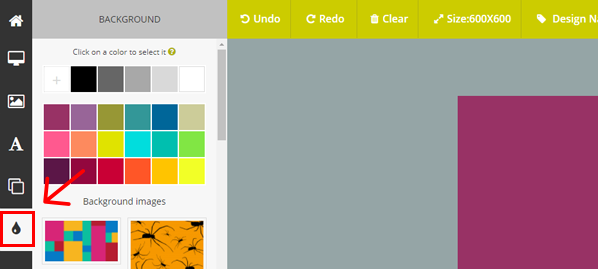 You can create any color by clicking in the square with the plus. Fun.
Step 4 Add a Color Overlay
This step is not madatory. However, sometimes the images are quite colorful or contrastive which would give you some trouble when you add a text over it. The text won't be readable enough.
In this case, you will need a color overlay. How to make it?
Create a box over the whole canvas, change the color of the box to one of your choice (black and white are the most used colors, but you can select any other color), and then turn down the transparency to around 50-70%, depending on the photo and the darkness of your brand color.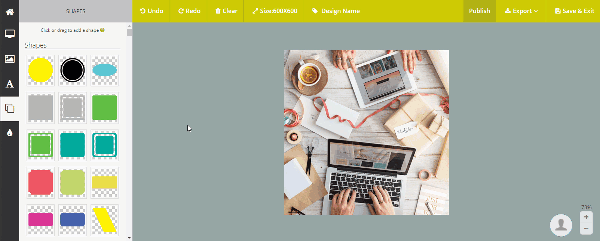 Step 5 Add a text
Typography is real art and not an easy task to complete. Your ultimate aim is make your message look aesthetically appealing and easy to read so your audience can absorb it at first sight.
To add a text, you should go to Text Tab and click on any of the standard styles for Heading, Subheading, and Body text.

Double click on the text box on the canvas you will be able to type in what you wish to say. You can use DELETE and BACKSPACE buttons on your keypad to make corrections on the text you are writing.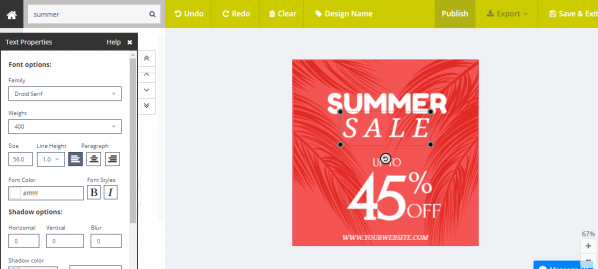 Advice: Try not to have too much text; short and punchy text performs much better.
You can change literally every element of your text – change the message, font, color, size and etc. Just start playing around and you will see for yourself how nicely it might be.
You need to select the element you want to edit for the Text Editing tool to show up.
Step 6 Add Your Logo and Website URL
This step is quite important because building brand awareness is the key to business success.
Go to YOUR GALLERY tab again and upload your logo, if you haven't done so yet.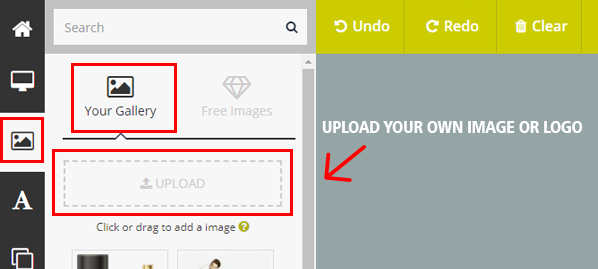 Tips: You want your logo in a format that works well on a colored background. If you don't have this, ask your designer. You at least need a PNG file that has a transparent background, or even better, a white version!
We are glad to help you with the logo, if you can't do it yourself. Contact us at [email protected] and leave the rest to us.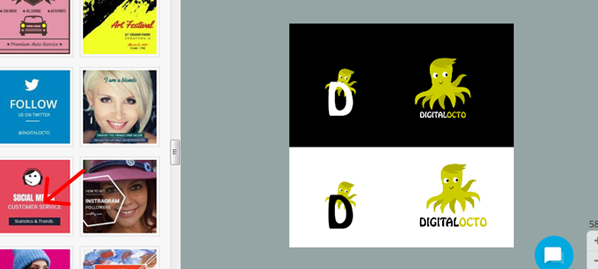 Step 7 Finish, Download it or Post it to Facebook
When you're all done, you can:
Use Save and Exit: DigitalOcto will save your designs in your account so you can always go back and edit them later!
Download: You can go to Export option at the upper right corner, and choose Download, or Export to Gallery.
Post to Facebook, Twitter and LinkedIn:
If you use SmartPublisher and choose this option, you will be able to directly schedule the image for publishing to Facebook, Twitter and LinkedIn at once.
If you haven't added your social profiles to DigitalOcto yet, you can follow this guide. Then you will be able to schedule your post to one or all your social media accounts